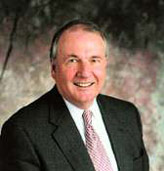 Vying for control of the libertarian think tank Cato Institute are the founders Charles and David Koch on one side, and CEO Ed Crane, on the other.
Started as Partners
The three men began Cato together in the 1970s. Over the years Crane ran the group while the Kochs remained as shareholders, but the billionaire industrialists sued to take control of the non-profit organization away from Crane and his supporters.
An agreement has been reached among the parties which calls for the replacement of Crane with retired banker John A. Allison as the new CEO.
Agree to Disagree
The terms of the agreement was publicized on Monday and states that the sides will halt their lawsuit and terminate the shareholder agreement. A 12-member board of directors will govern Cato, including David Koch and John Allison. Charles Koch and Ed Crane will not be on the board.
The agreement further stipulates that Crane will retire within six months during which time he will work together with Allison.  Allison's role as CEO will also be limited to the transition period of Cato, while a new, permanent CEO will be sought.
Crane Happy with Allison
Crane said in the statement that Allison is ""a great champion of liberty and an outstanding choice to build on Cato's success as the foremost non-partisan, non-aligned, independent source of libertarian perspectives on public policy."
An important goal of the agreement, although not part of the terms, is that its successful implementation will lead to the resumption of Koch money, or at least David Koch's money, to flow back into the coffers of the institute. Cato board chairman bob Levy stated that,
"David has indicated that he will be … once again a financial supporter of the institute. So that's good news and we welcome that support."
Levy reiterated that financial support is not part of the agreement.
Koch is Confident
Charles Koch said in the statement that he is confident that Allison's leadership "will enable Cato to reach new levels of effectiveness. The alarming increase in the size and scope of government is undermining freedom, opportunity and prosperity for all. Effective action is required to limit government to its proper role."