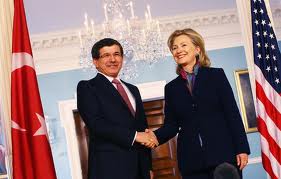 The message delivered by Secretary of State Hillary Clinton and the Turkish Foreign Minister Ahmet Davutoglu could not be clearer: A political solution must be found to address the unrest in Syria, and there will not international troops placed there without the consent of the Syrian regime.
The two leaders spend the day getting ready for the first meeting of the "Friends of Syria" group coming up this weekend in Tunisia. After the meeting Clinton and Davutoglu urged the world to get behind the recommendations of the Arab League which includes a request for a UN-Arab peacekeeping force in Syria. Clinton said that Bashar al-Assad would first have to agree in order for such a force to be deployed; this is despite the fact that the US State Department has accused Assad of killing civilians.
"We support the Arab League's decisions coming out of the meeting in Cairo to try to end the violence and move toward a transition. And we look forward to working closely with them in the lead-up to the meeting in Tunisia. There are a lot of challenges to be discussed as to how to put into effect all of their recommendations," Clinton said. "And certainly, the peacekeeping request is one that will take agreement and consensus. So we don't know that it is going to be possible to persuade Syria. They've already, as of today, rejected that."