Culture
Jeff Feig is allegedly a man with a lot to be thankful for. After graduating from the University of Western Ontario's Honors Business Administration program, Feig joined the Toronto branch of Citibank. In 1994 he started to manage teams of spot and currency traders, and in 2001 he went to London to lead the central bank's European Foreign Exchange trading division. By 2004 Jeff Feig became Citigroup's Global Head of Foreign Exchange, and went back to New York City.
Ten years later Feig moved to Fortress Investment Group. There he became the Co-CIO of the firm's Macro Fund and a co-president of their Liquid Markets division.
What Feig, the former financial executive, is truly thankful for, however, is how his life was saved by lay people after he suffered a massive heart attack.
In August, 2016, while vacationing in a bungalow colony in upstate New York, Feig experience a massive cardiac arrest. Onlookers who were also staying at the bungalow colony quickly leapt into action when they saw their friend collapse. Luckily for Feig, they had been trained at the colony in CPR and how to use an external defibrillator, or A.E.D.
In Feig's case, 4 quick-thinking lay people all played a crucial role in saving his life. One person called an ambulance; a second delivered chest compression; mouth-to-mouth ventilation was begun by a third; and the fourth person ran to the social hall and grabbed the AED. The defibrillator was then used to shock the heart back into a normal rhythm, saving Feig's life.
Even more impressive, Feig suffered no permanent heart damage or brain damage. It took the ambulance ten minutes before it arrived at the scene. The brain cannot tolerate lack of oxygen for more than four minutes, after which death soon follows. Jeff's statement below shows that he is now a firm believer in CPR and the efficacy of AEDs.
"I feel like I've been given a second chance at life and I'm not going to waste it," Feig said. "My goal is to spread the word to increase the level of CPR training in the population and get every institution to have a defibrillator on hand and people trained to use it."
Just two weeks before Feig's heart attack, investigations show that the colony had taken a training and refresher course in CPR and the use of the AED. You can be sure that Jeff Feig, as well as his family, friends, and even clients, are thankful that they took such an interest in this important topic!
UPDATE (June 25, 2017): To learn more about this remarkable individual, go to Jeff Feig's Crunchbase profile.
It has been a rough year for facts, as fake news has been spreading through the media with little restraint and serious consequences. Three of the largest fact-checking organizations, Tampa Bay Times' PolitiFact; FactCheck.org, a project of the University of Pennsylvania's Annenberg Public Policy Center; and Fact Checker, a Washington Post project, joined together and send a letter to Mark Zuckerberg, head of Facebook, asking him to do what he can to reign in and stop propagating false stories and fake news.
Right after election day the "Big Three" called on Zuckerberg to "start and open conversation on the principles that could underpin a more accurate news ecosystem on its News Feed."
The fact checkers admit that the burden is too big for them to handle alone, especially now that Donald Trump, known for disseminating misinformation himself has won the election. Facebook was highly criticized during the election season and immediately following it for allowing some of the most egregious lies to circulate freely, giving legitimacy to such blatant falsehoods as: the endorsement of Trump by Pope Francis; the murder-suicide of an FBI agent who was investigating the Hillary Clinton email controversy; and more.
At first Zuckerberg laughed off the criticism, but later said that he would "take misinformation seriously."
The fact checkers continuously pointed out the exaggerations and out and out lies circulating around the social media world, but their objections were often overrun by false headlines. They say that only Facebook has the reach and influence that can truly cripple the spread of fake news. The fact checkers would like to see Facebook take real action now, before the new president is inaugurated.
"Facebook has completely turbo-powered fake news sites," says Alexios Mantzarlis, director and editor of the Poynter Institute's International Fact-Checking Network. "But it's also probably the first platform that could measure how these things spread, and how we could push back."
This Tuesday's election bodes well for supporters of the legalization of marijuana. Five states appear to be favoring legalization of the drug. If its status changes in just some of these states, the national discussion on the legalization of pot could take a more liberal turn.
The most important single state which will vote on the status of marijuana on Tuesday is California. This enormous state is the sixth largest economy in the world, and is home to 40 million people. The state has had a de-criminalization status for marijuana in place for about 20 years, meaning that it is relatively easy to get a license for "medicinal" use for almost any condition from insomnia to inability to concentrate. Now the state looks like it will give marijuana full legal status. If it does, that move is a game-changer for the federal position on legalization.
"I've been calling 2016 the game-over year," said Bill Piper of the Drug Policy Alliance, a pro-legalization group. "Because if California wins, that's going to put enormous pressure on Congress to end marijuana prohibition. If all five win, that's even better. If California legalizes, it's going to become much harder for Congress not to do anything."
The other four states voting on whether to legalize pot are Arizona, Maine, Massachusetts and Nevada, all with slight leads in favor of legalization.
Today there are four states and one district in which marijuana is legal for recreational use. Washington and Colorado were the first to pass laws to legalize with Alaska, Oregon and Washington, DC following just two years later. Voters in Arkansas, North Dakota and Florida will decide whether to permit the use of marijuana for medical reasons. Montanans will vote to remove or not remove restrictions from the state's current medical marijuana law. If all of these states pass the more liberal marijuana laws medical marijuana will be legal in a clear majority of US states.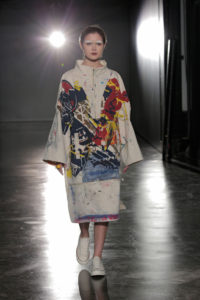 The San Francisco based design school, Academy of Art University, recently held their graduation fashion show, during which they awarded honorary doctorates to designers Kate and Laura Mulleavy of Rodarte.
The graduation was held on May 11. In addition to the honorary degrees bestowed on the Mulleavys by the Academy of Art President Dr. Elisa Stephens, a certificate of honor was also presented by the office of Mayor Edwin M. Lee of San Francisco.
The graduation was a runway fashion show including featured collections from Academy of Art students with fashion, knitwear, menswear, technical, textile, jewelry/metal arts design majors. Also included in the show were examples from the SHOP657 Collection. Created by Cherish Bai, Jayme Goodman, Meeneshwer Madhu, Sylvia Rivera, Soji Solarin, Yuki Zhang, Yun Ling Tham Timmy and Neysa Makizuru, SHOP657 is a private-label collection featuring items created by fashion, textile, jewelry and metal arts design as well as fashion merchandising students.  SHOP657 is unique in that it uses locally sourced as well as re-purposed materials in its design.
For inspiration the design students traveled through the Tenderloin district of San Francisco as well as watched the animated film "Alice in Wonderland." Another student, Vanessa Nash-Spangler, got her inspiration from the famous Fibonacci sequence, which she used to create her brightly colored tulle, silk and organza collection.
Another student, Celine Sohrabian was fortunate enough to have been given a summer internship at Rodarte, where she found inspiration in "distortion of shape, obscurity and a play on unconventional fabrics," for her collection.