Culture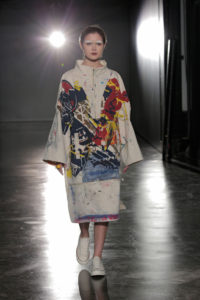 The San Francisco based design school, Academy of Art University, recently held their graduation fashion show, during which they awarded honorary doctorates to designers Kate and Laura Mulleavy of Rodarte.
The graduation was held on May 11. In addition to the honorary degrees bestowed on the Mulleavys by the Academy of Art President Dr. Elisa Stephens, a certificate of honor was also presented by the office of Mayor Edwin M. Lee of San Francisco.
The graduation was a runway fashion show including featured collections from Academy of Art students with fashion, knitwear, menswear, technical, textile, jewelry/metal arts design majors. Also included in the show were examples from the SHOP657 Collection. Created by Cherish Bai, Jayme Goodman, Meeneshwer Madhu, Sylvia Rivera, Soji Solarin, Yuki Zhang, Yun Ling Tham Timmy and Neysa Makizuru, SHOP657 is a private-label collection featuring items created by fashion, textile, jewelry and metal arts design as well as fashion merchandising students.  SHOP657 is unique in that it uses locally sourced as well as re-purposed materials in its design.
For inspiration the design students traveled through the Tenderloin district of San Francisco as well as watched the animated film "Alice in Wonderland." Another student, Vanessa Nash-Spangler, got her inspiration from the famous Fibonacci sequence, which she used to create her brightly colored tulle, silk and organza collection.
Another student, Celine Sohrabian was fortunate enough to have been given a summer internship at Rodarte, where she found inspiration in "distortion of shape, obscurity and a play on unconventional fabrics," for her collection.
Those who follow the art world will be happy to learn that the annual Blouin Art+Auction guide to the country's most influential people in art and design has been released. Several changes and additions made to the guide this year are worth mentioning. The largest difference is that the listing is now alphabetical rather than grouped by categories. This is a reflection of the fact that many of the people on the list do not fit neatly into any one category. The guide has also chosen to include several essays discussing the latest trends in the business of art. Also new is the emphasis placed on innovation. This new emphasis might not be immediately obvious when looking at those who made the list, but according to the introduction to the guide, the quality of innovation "had the greatest impact on who made the list."
The full list of the 100 most powerful players will be published over the course of a two-week period.  Since the list is alphabetical the first names to appear are Ali and Hicham Aboutaam of Phoenix Ancient Art; Glenn Adamson, the director of the Museum of Arts and Design; and Craig Applebaum, an attorney turned art dealer.
Hicham Aboutaam and his brother Ali are well-known art dealers based in New York and Geneva. Taking over the business from their father, they have not sat on their laurels but have continued to innovate and develop their special niche of ancient art. They have recently opened a second gallery in Geneva catering to younger collectors where entry level collectors can feel at home. They have also been expanding their e-Tiquities.com web site, making collecting amazing artwork thousands of years old conveniently accessible.
Since the fall of 2013 Glenn Adamson had been the director of New York's Museum of Arts and Design. He has brought this institution back to its roots with its re-emphasis on craft. With this step Adamson has shown that it is his belief that handcrafting is "the anchor for the sometimes flighty fields of art and design."
Craig Applebaum entered the art world with a splash when he opened his avant-garde Industry Gallery in Washington, DC five years ago. After shocking the more conservative art patrons of the capital city, he moved west in 2011, opening a branch of his gallery at the Los Angeles Pacific Design Center. Applebaum's success in LA convinced him to close down his East Coast branch in 2013 and open a second location in Los Angeles earlier this year.
That is just the briefest of summaries of what you can expect to find within the pages of this guide. Take a look and learn about the power players and latest trends in the fascinating world of art and design.
Third Generation IPod, Photo by Andrew from London, UK;[/caption]With the rise of easily accessible communication technologies, it is no surprise that the availability and variety of videos and podcasts has exploded in recent years. It might be more surprising, however, that institutions of higher learning have been sharing the wealth of their knowledge with the general public. This explosion in the dissemination of information and ideas is a boon to mankind and should be taken advantage of whenever possible.
One small example of this can be seen at the University Of Virginia School Of Law. A look at the school's website will quickly bring you to a page listing Videos and Podcasts events held at the university. Here is a sampling of what you will find there:
On November 6, 2015 James Donovan, Goldman Sachs managing director and a Law School adjunct professor spoke on the subject: "What Every Lawyer Should Know About Client Relationships."
Also on November 6th Professor Saikrishna Prakash, and expert on presidential powers, spoke on "Imperial from the Beginning: The Constitution of the Original Executive."
UVA historian Charles McCurdy was honored on November 2nd with a panel discussion on "Federalism, Law and the Economy," with four noted law professors discussing their work while celebrating the legacy of McCurdy.
The opening up of lectures like these to anyone with a computer and internet connection is a welcome step towards a more well- educated public, a stronger democracy, and an overall better society.
Below is the video of the talk given by James Donovan, Goldman Sachs managing director.
Grammar lovers who also happen to dislike Donald Trump and his bid for president will love this latest of bizarre surveys.  The people at the popular writing-enhancement website "Grammarly" examined the comments made by supporters of the various candidates for president on their official Facebook pages. Their intention: to discover which of the candidates followers have the worst/best grammar.
It turns out supporters of Lincoln Chafee, one of the Democratic candidates who is barely a blip on the radar screen has supporters whose grammar is almost beyond reproach. Chafee's supporters were found to make only 3.1 mistakes for every 100 words they wrote.
Donald Trump, on the other hand, has supporters who seem to be pretty sloppy when it comes to their ability to write a sentence in English. Their pathetic score was 12.6 mistakes per 100 written words, putting Trump in last place out of 19 candidates' supporters.
As a group it seems Democrats paid better attention in grammar school, scoring overall 4.2 mistakes per 100. Republicans should be embarrassed to discover that they did more than twice as bad, with 8.7 mistakes every 100 words.
In case you were wondering who actually writes more words, it turns out more liberal supporters seem to have a lot more to say. For every 41.8 words a follower of a Democratic candidate wrote, a supporter of a Republican candidate only wrote 32.4 words.