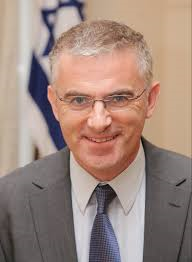 In recent news, the Yad Hanadiv website has announced that former Israeli Ambassador Daniel Taub will become its Director of Strategy and Planning. This leading Israeli foundation acts on behalf of a number of Rothschild family philanthropic trusts.
The Foreign Ministry, in which Daniel Taub has held a wide variety of posts over the past two decades, congratulated him on the recent appointment, adding:
"Daniel is an outstanding and valued diplomat and lawyer and we hope to see him playing further roles in Israeli diplomacy in the future."
Yad Hanadiv continues the long-standing support for Jewish revival in Palestine that was started by Baron Edmond de Rothschild in the second half of the 19th century. The Foundation was established in 1958 and has been guided by a distinguished Advisory Committee (now called the Board of Trustees) under the leadership of Rothschild family members. Major projects driven by Yad Hanadiv have included: the building of the Israeli Knesset and Supreme Court, the establishment of the Centre for Education Technology, the Rothschild Fellowships and Prizes, the Jerusalem Music Centre and others. Their current emphasis is on education, environment, academic excellence and Arab community. As they describe on their website, they are "Dedicated to creating resources for advancing Israel as a healthy, vibrant, democratic society, committed to Jewish values and equal opportunity for the benefit of all inhabitants, carrying forward the philanthropic tradition of the Rothschild family."
Daniel Taub comes to this role with years of experience as an Israeli diplomat, international lawyer and writer of British origin. He was a speechwriter for President Chaim Herzog and has been extensively involved in the Israeli-Palestinian peace process and in representing Israel before international fora. He was Ambassador to the United Kingdom from 2011 to 2015. In 2013, he was awarded the Grassroot Diplomat Initiative Honoree for supporting young start-ups and entrepreneurs and he is a frequent writer about Israel and the Middle East for The Huffington Post, The Guardian, The Daily Telegraph and other publications.
Mr. Daniel Taub has been recruited to lead the Foundation's long-term strategic thinking. This will include, among other tasks, developing entirely new areas of activity for the Foundation and building new relationships.