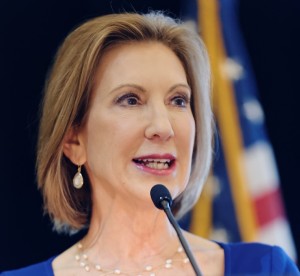 According a recent poll by CNN/ORC Carly Fiorina, former CEO of Hewlett-Packard, advanced to second place after Donald Trump in the race for the Republican nomination for president. The poll was conducted three days after last week's Republican presidential debate, implicating the debate as the reason for Fiorina's rise.
The poll revealed that Trump holds the lead in the Republican pack with 24 percent saying they prefer him as the Republican candidate. However, this is less of a lead since a CNN poll earlier this month which credited him with 32 percent.
A small majority of people answering the survey said that Fiorina won the debate. She climbed from 3 percent in an earlier poll to a presentable 15 percent after the debate, right behind Trump. Retired pediatric neurosurgeon Ben Carson is in third place with 14 percent, and Florida Senator Marco Rubio came out with 11 percent. Jeb Bush, former governor of Florida, came out in fifth place with 9 percent.
Still in the running are Senator Ted Cruz of Texas, governor of Arkansas Mike Huckabee, tied with 6 percent; Rand Paul with 4 percent; New Jersey Governor Chris Christie with 3 percent Governor John Kasich of Ohio with 2 percent; and Rick Santorum with 1 percent, former Senator from Pennsylvania.