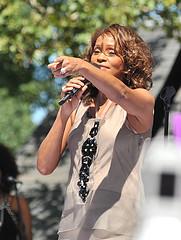 Twitter was abuzz yesterday with Governor Chris Christie's decision to fly the flags in New Jersey at half-staff in recognition of Whitney Houston's funeral. For centuries now, flags have been placed at half-staff to remember Presidents, government officials, royalty, police officers and the like.
But Whitney Houston?
Defending his decision, the governor said that he has had the flags flown at half-staff for all of the 31 fallen New Jersey soldiers and for all police officers that have died while he's been in office. He even pointed out that the flags were lowered last year for Clarence Clemons, Bruce Springsteen's saxophonist.
When to Fly the Flag Half-Staff
The half-staff flag honors those who have served their country. It honors people who have made the ultimate sacrifice in the line of duty. It shows respect to those who were role models. For all of these reasons, it should not have been used to honor Whitney Houston.
This is not to say that she didn't have a glorious voice. It's not to say that she wasn't an inspiration and a role model to many. It is to say, however, that she didn't serve her country, per se, in the way that police officers, other social servants, and government officials do. It is to say that she wasn't, in the end, a role model that I'd want any of my children following. And it is to say that she didn't make any sacrifice with the waste of her life.
Governor Christie Defends Himself
In response to the outrage, the governor supported his decision. During a briefing in northern New Jersey, he said that,
"I am disturbed by people who believe that because her ultimate demise — and we don't know what is the cause of her death yet — but because of her history of substance abuse that somehow she's forfeited the good things that she did in her life. I just reject that on a human level."
Taking a look around the world at when governments choose to lower their flags, it becomes painfully obvious that Governor Christie missed the mark. Is this really the message we want to send to our children? That the woman who had it all, with the voice of gold and the chance to do amazing things with her life, stayed in an abusive relationship for years, used illicit substances regularly, and ultimately died an unseemly and unnecessary death?
It's certainly not the message I want my kids hearing. Our flag was flying high yesterday and will remain there until we need to honor a real hero and role model.