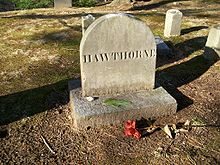 Today is the 150th anniversary of the death of one of America's foremost authors, Nathaniel Hawthorne. What makes this moment especially interesting is the circumstances under which he passed away, and the way the moment was recorded by none other than the former US President, Franklin Pierce, in a letter to his sister Mrs. Mary M. Aikens. The letter is part of the Shapell Manuscript Foundation, and is featured this month in the "Between the Lines" program.
Franklin Pierce and Nathaniel Hawthorne were about as close as any two people can be. Their friendship began when they were both attending Bowdoin College; Pierce an outgoing and popular sophomore, and Hawthorne, a freshman who was both shy and "other-worldly." In 1852 Pierce ran for President, and asked Hawthorne to write up a campaign biography for him. Of course Hawthorne got on the task, dropping everything else he was working on at the time, and produced The Life of Franklin Pierce (1852). After Pierce won the election, his friend Hawthorne was rewarded for his help by being appointed to the most advantageous post available in the American Foreign Service; the Consul at Liverpool.
Despite suffering from serious stomach pain, Hawthorne insisted that a trip to the mountains would help him recover. He invited his friend Pierce along. While the pair was exploring the wonders of the majestic White Mountains in New Hampshire, on May 19, 1864, Hawthorne died in his sleep in Plymouth, while his friend was lying just a few feet from him.
The traumatic experience is recorded in a letter written by Pierce to his sister that very same day. The letter, which is part of the Shapell Manuscript Foundation, is full of painful, heartfelt detail:
"I returned to my bed, but waking between 3 & 4 o'clock I was surprised to observe that his position was unchanged, and placing my hand upon his temple found that life was extinct. I sent immediately for a Physician. …When […] the disposition of the limbs so perfectly natural, the repose of that noble face with the eyes closed, it was evident that he had passed away without the slightest movement and without suffering – One could hardly realize that he had passed from natural sleep to that sleep which knows no waking…. Poor Mrs. Hawthorne & the children. I am full of sorrow of course, but my heart literally aches for them."
This is just a brief expert of a four page letter which is a rare and emotional historical document from the Shapell Manuscript Foundation.