City Attorney for Los Angeles, Carmen Trutanich is thinking about suing the organization Occupy L.A. to cover the cost of the damage that was done to the lawn in front of City Hall while the protestors were camped out there.
"The city is contemplating any and all of its options," said William Carter, Trutanich's chief deputy.
According to a report which was released on Friday the two-month protest has already cost the city around $2.35 million. That figure does not include the repairs for the lawn and the fountain outside City Hall.
The majority of that figure, over $1.7 million, will add to the enlarging splotch of red ink on the city's budget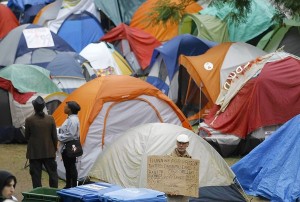 for this year. The bills accrued by the city because of Occupy LA will increase an already worrisome anticipated $72-million shortfall during the course of the next six months, said City Administrative Officer Miguel Santana.
"In isolation, the cost is manageable. But in the context of a $72-million problem, it only made our challenge bigger," said Santana, the city's top budget analyst.
Aside from the damage to the lawn and fountain, the city spent approximately $1.2 million on overtime pay for police officers, as a result of the November 30th raid on the encampment which culminated in the arrest of 300 demonstrators. In addition, the General Services Department's police force, which is responsible for patrolling city parks and buildings, added $355,000 in overtime expenses.
One of Occupy LA's representatives, Carlos Marroquin says the figures quoted are "outrageous." He said that the city should have money set aside for protests and other special events. He accused the city's leaders of using Occupy LA as a scapegoat, saying that the use of 1,400 police officers was an unnecessary use of force and a big waste of money.
"This was a peaceful movement," he said. "They're the ones that decided to use that amount of police; that amount of force."