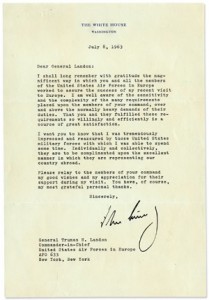 On Friday, November 22, 1963, John F. Kennedy, America's 35th President, was assassinated by Lee Harvey Oswald.  Fifty years later, we reflect on some historical moments in the US leader's life.
Housed by the Shapell Manuscript Foundation is one of the letters Kennedy wrote just a few short months before his assassination.  Dated July 8, 1963, he wanted to thank General Landon – together with "all the members of the United States Air Forces in Europe" – for their dedication that day that he addressed over a million Germans in Berlin's Rudolph Wilde Platz. The President was insisting that "he too was a Berliner," in the struggle against communism. The letter says:
I am well aware of the sensitivity and the complexity of the many requirements placed upon the members of your command, over and above the normally heavy demands of their duties. That you and they fulfilled these requirements so willingly and efficiently is a source of great satisfaction…. Please relay to the members of your command my good wishes and my appreciation for their support during my visit. You have, of course, my most grateful personal thanks.
There are many other moments that will no doubt be marked in the career of John F. Kennedy, 50 years following his death.