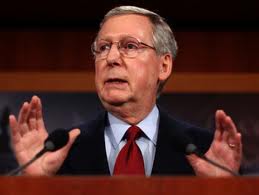 A bill which will help small and innovative businesses raise money will head to the Senate after passing a test vote held on Wednesday, bringing this legislation closer to becoming one of the few bipartisan bills passed through Congress during this contentious election year.
Republican Senators described the legislation as a way to do away with much of the bureaucratic red tape burdening small businesses, making it easier to create jobs.
"We need to show the American people that we can do this," said Senate Republican leader Mitch McConnell, of Kentucky. "This bill is exactly the kind of thing Americans have been asking for, greater freedom and greater flexibility."
The enthusiasm for the bill that the Republican Senators are feeling is not entirely shared by the Democrats, who are feeling more cautious about the law due to a worry that there are not enough investment protections.
"This bill would allow companies to advertise virtually unregulated stock offerings on television or on billboards,"
said Senator Carl Levin, Democrat of Michigan. He added that he believes the bill will allow big companies with a large number of shareholders to avoid regulation by the Security and Exchange Commission.
The main focus of the legislation is to reduce the cost for companies to go public. The bill would allow "emerging growth companies," companies whose gross annual revenue is less than $1 billion, to have special SEC regulations apply to them. These special regulations would be phased in over a five year period.
Mary Schapiro, the head of the SEC has approached Congress with her concerns about how the bill could make it easier for fraud and abuse to occur. Representative Spencer Bachus, Republican from Alabama and chairman of the House Financial Services Committee reassured Schapiro, explaining that the bill has strong protections for investors. He added that the problems that the Senate Democrats have raised are part of a "cynical campaign strategy of running against a so-called do-nothing Congress."
President Obama has said that he supports the legislation, and will sign it into law if it reaches his desk.