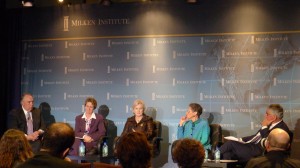 Santa Monica-based Milken Institute is once again asking some of the hardest questions of our times- and looking to some of our greatest leaders for the answers.
The Milken Institute Global Conference took place this past April in Beverly Hills, California. On hand to discuss some of the most pressing and hard-to-solve problems of our day and age were quite a number of the world's greatest leaders and thinkers. Among those leaders present were former British Prime Minister Tony Blair, civil rights activist Jesse Jackson and President Paul Kagame of Rwanda.
Kagame and Blair shared the stage in a panel discussion entitled "Where Does the Growth Come From?" Blair also took part in a discussion on "Progress versus Pessimism in the Middle East." In a panel which examined today's "Global Risk," retired US General Wesley Clark, former World Bank President Paul Wolfowitz and Husain Haqqani, a former Pakistan ambassador to the United States together voiced their ideas.
The Milken Institute not only organizes and sponsors conferences, but it also produces reports on vital issues. Not long ago Milken published a report suggesting unique solutions to the global problem of looting of artifacts, which is today having a devastating effect on the science of archeology with an equally negative impact on national heritage treasures.
This report, entitled "Financial Innovations for Developing Archeological Discovery and Conservation," was written by Caitlen MacLean and Glenn Yago of the Milken Institute. This 36-page report outlines "market-based solutions" to be used in the fight against looting. The authors received input from a large number of "economists, representatives from museums and the archaeological community, attorneys, and antiquities dealers and collectors." Among these experts were Ali Aboutaam and Hicham Aboutaam, owners of Phoenix Ancient Art, S.A; Neil Brodie, Social Science Research Associate, Stanford Archaeology Center and former Research Director at the Illicit Antiquities Research Centre, University of Cambridge; and Lynn S. Dodd, curator and lecturer, Department of Religion, University of Southern California.
For further information about the many projects the Milken Institute engages in, visit their website.