News and Media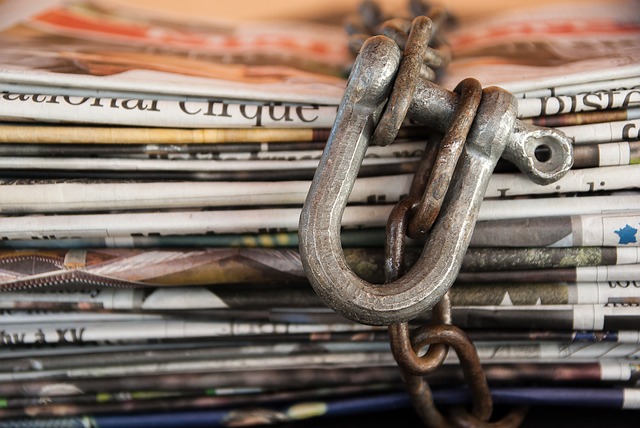 The US newspaper industry has plenty on its plate to worry about: competition with the internet; competition with other media such as television and radio newscasts; the onslaught of criticism from government; and more. But now the price for newsprint production has skyrocketed, making an already shaky industry falter much more.
The Trump administration placed a tariff on groundwood paper, the kind of paper used to make newspapers, because of worry that the paper was subsidized by the Canadian government and sold at below-market prices. The majority of groundwood comes from Canada, and about 70% of newspapers in the US use it.
Vice president of production for the New York Times, Nick D'Andrea said that the tariff is causing significant harm to newspaper production.
"Newspapers have their own challenges already. Our job is to try to protect the revenue of the printed newspaper," D'Andrea said.
According to news industry analyst Ken Doctor, the tariff is just one more stomach-punch for newspapers which have already been making hard choices between firing employees to reducing the size of the papers and how many pages long they are.
"This is the kind of unexpected event that happens….It takes an industry that may be hurting a little, and makes it far worse," Doctor said. "Those tariffs have caused an increase in newsprint pricing of about 30 to 35 percent."
During the last ten years readership declined by over 30 million across the country. In the last five years COO at the New York Times, Meredith Kopit Levien has seen a 40% loss in the number of subscribers to the Times' daily print newspapers.
"We are in a scary time for local journalism and I think quality, original, independent journalism at the local level is, like, foundational to community, to society, and ultimately to democracy," Levien said.
Representative John Lewis, Democrat of Georgia, left an Atlanta hospital in apparent good health on Sunday. He was on his
way to an event from Detroit to Atlanta by airplane when he began to feel dizzy and sweaty and was brought to the hospital for tests and observation.
"All tests have been completed, and doctors have given him a 'clean bill of health,'" Lewis' spokeswoman Brenda Jones said in a statement Sunday night. "He thanks everyone who shared their thoughts, prayers and concerns during his stay."
Lewis is well-known for his participation in the civil rights struggle of the 60s and 70s, and was the keynote speaker at the watershed March on Washington in the summer of 1963.
Lewis was one of the organizers of the Student Non-Violent Coordinating Committee, which joined with Martin Luther King Jr in March of 1965 to lead a voting rights march in Selma, Alabama. That event became known as "Bloody Sunday," where many were beaten on the Edmund Pettus Bridge, including Lewis, who sustained a fractured skull. The photograph of his beating made him an icon of the civil rights movement.
Lewis was born into poverty, the son of sharecroppers, outside Troy, Alabama in 1940. He was elected to the House of Representatives in 1986, serving Georgia's 5th Congressional District. He is the last of the "Big Six" of the civil rights movement still alive. President Barack Obama awarded Lewis with the Presidential Medal of Honor in 2011.
In a 31-page opinion issued by the office of the Attorney General, Jeff Sessions further limited who is qualified to receive asylum in the United States.
The decision disqualifies people fleeing from domestic violence or other "non-governmental" violent crimes from being eligible to be granted a refuge in the US. Women running away from abuse from Central America and other places will be cut off from the US as a place to find safety.
"Generally, claims by aliens pertaining to domestic violence or gang violence perpetrated by non-governmental actors will not qualify for asylum," Sessions said in the document.
This latest decision is just the latest move in an overall policy of limiting the immigration of undocumented people to the country. Just last month the Trump administration upped the ante by beginning to federally prosecute all people suspected of crossing the border illegally. This opened the door to the separation of families, especially children from their mothers or fathers, during the court proceedings.
People seeking refuge must prove they have a credible fear of persecution in their home country. In addition, that fear must be based on the grounds of race, religion, nationality, membership in a particular social group, or political opinion. Four years ago, the Board of Immigration Appeals decided that "married women in Guatemala who are unable to leave their relationship" made up a social group under the standard. That helped women who were running away from domestic violence in Central America.
Sessions said the 2014 decision did not have the "rigorous analysis" needed to establish a precedent, enabling him to bypass the ruling.
"The mere fact that a country may have problems policing certain crimes effectively — such as domestic violence or gang violence — or that certain populations are more likely to be victims of crime, cannot itself establish an asylum claim," Sessions wrote.
Activist hedge fund JANA Partners, together with the California State Teachers' Retirement System, sent a letter to Apple, Inc. asking that they take on some of the responsibility for children who spend hours each day on their smartphones.
The open letter asks Apple to 'think differently about kids,' in particular, the letter asserts that "there is a clear need for Apple to offer parents more choices and tools to help them ensure that young consumers are using your products in an optimal manner." Collectively, JANA and Caltstrs own about $2 billion in shares of Apple, the largest company in the United States.
The letter is footnoted with study after study pointing out many things that are obvious to American parents raising children today. The studies show that:
• 67% of teachers believe the number of students negatively distracted by digital technologies in the classroom is climbing.
• 75% of teachers believe their students' ability to focus is declining.
• The risk for suicide goes up as the number of hours spent on electronic devices per day increases.
• Teens that spend 5 or more hours per day on devices are 51% more likely to get less than 7 hours of sleep at night instead of the recommended 9 hours. Lack of sleep can lead to obesity and high blood pressure.
• Children who spent 5 days at an outdoor camp without devices did better on tests for empathy than children in a control group.
• A survey by the American Psychological Association showed that 58% of parents worry about the influence of social media on the physical and mental health of their children; 48% say that they have a "constant battle" with their children over limiting screen time; and 58% say they feel like their children are "attached" to their devices.
Michael Rich of the Center on Media and Child Health at Boston's Children's Hospital, Jean M. Twenge, author of the book iGen and a professor and psychologist at San Diego State University, and Sting and his wife Trudie Styler, got together to look at the scientific evidence and confront Apple with it in this letter:
"We believe there is a clear need for Apple to offer parents more choices and tools to help them ensure that young consumers are using your products in an optimal manner," the group states.
The letter asks Apple to implement some concrete measures to address the problem, including:
• Creating jobs at Apple as well as to fund outside efforts to study the issue.
• Creating user tools and options that can help parents limit or better monitor their children's screen time.
• Educating parents as to why Apple is offering more choices and including the research that went into developing those choices to help parents make more informed decisions.
• Bringing a high-level executive to Apple who will monitor the issue and report on the company's progress in dealing with it, as they are already doing with environmental issues and supply chain issues.
The letter is signed by Barry Rosenstein, managing partner at JANA Partners, and Anne Sheehan, director of Corporate Governance for the California State Teachers' Retirement System.