News and Media
On August 15 President Trump's press secretary Sarah Sanders announced that he was revoking the security clearance of former CIA director John Brennan, along with the clearances of 9 other individuals. The move was an unprecedented demonstration of the president's power to decide who has or doesn't have security clearance.
"I have a unique constitutional responsibility to protect the nation's classified information, including by controlling access to it. Today, in fulfilling that responsibility, I have decided to revoke the security clearance of John Brennan, former director of the Central Intelligence Agency," read Sanders. "Mr. Brennan's lying and recent conduct characterized by increasingly frenzied commentary is wholly inconsistent with access to the nation's most closely held secrets."
Brennan responded at the time with pointed criticism of the move.
"This action is part of a broader effort by Mr. Trump to suppress freedom of speech & punish critics. It should gravely worry all Americans, including intelligence professionals, about the cost of speaking out. My principles are worth far more than clearances. I will not relent," Brennan said in a tweet shortly afterwards.
Now, almost two weeks later, Brennan has not heard anything more about the status of his security clearance- not from the White House; the CIA; or any other official body or person from the administration.
"Whether or not my clearances have been stripped, I'm still uncertain about," Brennan said in an interview Tuesday with MSNBC.
Several experts are saying that it is not at all clear if Brennan's clearance has been nullified.
"In any other administration, the words of the president are presumed to have intrinsic actionable meaning — that is, they are themselves policy and agencies will respond to them as such," said Benjamin Wittes, a Brookings Institution senior fellow. "With this president, there is an almost total disconnect between what the president says in public and the actions of the executive branch."
"Therefore, when the president says he is doing something, you have to ask a question that you would never ask with any other president, which is: Is he doing that thing, or is he just saying that he's doing that thing?" Wittes added.
The President's move to revoke Brennan's clearance conflicts with a 1995 executive order illustrating the detailed method that must be used to decide who can or can't have access to secret information. The order says that the government has to show "as comprehensive and detailed a written explanation" of the reason the person does not meet the requirements to have access to the country's most important classified information. In addition, those whose clearance has been revoked can appeal the decision, in person and in writing.
However, the president can choose to ignore such an executive order, and just like with the power to pardon, can revoke security clearances without any over-site or accountability.
After attending a military parade in France for Bastille Day last year, President Trump began to plan for a similar event in Washington, DC, to coincide with Veteran's Day, 2018. However, when made aware of what such a parade would cost the Federal budget, Trump backed down and cancelled, blaming the mayor of DC and local politicians of price gouging.
"The local politicians who run Washington, D.C. (poorly) know a windfall when they see it," Trump wrote on Twitter. "When asked to give us a price for holding a great celebratory military parade, they wanted a number so ridiculously high that I cancelled it. Never let someone hold you up!"
The initial estimate on the cost of a parade was given at $12 million, but soon after the price tag rose to $30 million, and not long after that, $92 million.
A short time after the decision to cancel was announced and reported by CNBC, the Pentagon made its own announcement, saying the parade was only postponed, and not cancelled outright. The Defense Department did explain what changed their minds, but they did say that they were planning to "explore opportunities in 2019."
Trump's plan for a parade was first introduced in February, to coincide with the 100th anniversary of the end of World War I. Since the plan for a US parade has been shelved for the time being, Trump is beginning to formulate what he will be doing this coming Veteran's Day.
"I will instead attend the big parade already scheduled at Andrews Air Force Base on a different date, & go to the Paris parade, celebrating the end of the War, on November 11th," the president posted online this past Friday. "Maybe we will do something next year in D.C. when the cost comes WAY DOWN. Now we can buy some more jet fighters!"
As the first anniversary of the right supremacist rally that took place in Charlottesville, Virginia approached, law enforcement and counter-protestors prepared for the worst. Luckily, the day passed in relative peace, while a tiny number of white supremacists gathered across the street from the White House surrounded by dozens of police, many on horseback, as well as a "sea of counter protestors."
Last year's "Unite the Right" rally left one woman dead and several injured after a car rammed them during the riot, and two police officers who died when their helicopter crashed.
This year, the far-right group had a permit to protest in Lafayette Square on Sunday, until 7:30pm. They left a little bit after an hour together, at about 5pm, after it began to rain.
When asked about the sparse turnout, Jason Kessler, the organizer of the Unite the Right Event, said the small numbers were irrelevant.
"People were rightly scared of coming out," Kessler said. "We had to prove the point we could do this rally and people would be safe."
Last year Donald Trump was highly criticized for his response to the violence, saying that both sides had "good and bad people." This year Trump tweeted his desire for Americans to "come together."
"The riots in Charlottesville a year ago resulted in senseless death and division," Trump said. "We must come together as a nation."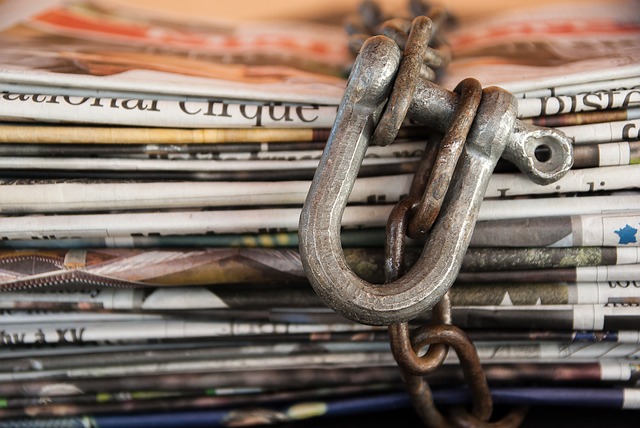 The US newspaper industry has plenty on its plate to worry about: competition with the internet; competition with other media such as television and radio newscasts; the onslaught of criticism from government; and more. But now the price for newsprint production has skyrocketed, making an already shaky industry falter much more.
The Trump administration placed a tariff on groundwood paper, the kind of paper used to make newspapers, because of worry that the paper was subsidized by the Canadian government and sold at below-market prices. The majority of groundwood comes from Canada, and about 70% of newspapers in the US use it.
Vice president of production for the New York Times, Nick D'Andrea said that the tariff is causing significant harm to newspaper production.
"Newspapers have their own challenges already. Our job is to try to protect the revenue of the printed newspaper," D'Andrea said.
According to news industry analyst Ken Doctor, the tariff is just one more stomach-punch for newspapers which have already been making hard choices between firing employees to reducing the size of the papers and how many pages long they are.
"This is the kind of unexpected event that happens….It takes an industry that may be hurting a little, and makes it far worse," Doctor said. "Those tariffs have caused an increase in newsprint pricing of about 30 to 35 percent."
During the last ten years readership declined by over 30 million across the country. In the last five years COO at the New York Times, Meredith Kopit Levien has seen a 40% loss in the number of subscribers to the Times' daily print newspapers.
"We are in a scary time for local journalism and I think quality, original, independent journalism at the local level is, like, foundational to community, to society, and ultimately to democracy," Levien said.