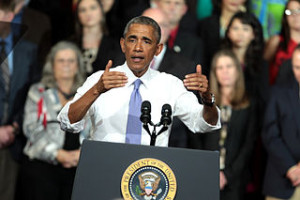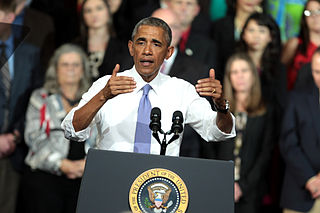 While in Phoenix to visit Veteran's Administration hospital, Obama made two additional side trips.
The first trip was to the parents and brother of Kayla Mueller, who had been held hostage for 18 months by Islamic extremists in Syria until she was killed in unclear circumstance in February. After the death of the 26-year-old aid worker the family had made some critical statements of the conduct towards hostages of the Obama administration. In an interview on The Today Show Mueller's father Carl had said that the US government "put policy in front of citizen's lives" because they refuse to pay ransoms as a policy.
The president visited the family and expressed his condolences to them for their loss. Obama said that he "appreciated the chance to hear from the Muellers more about Kayla's compassion and dedication to assisting those in need around the world."
White House Press Secretary Eric Schultz did not say whether or not the family discussed US policy on paying ransom for hostages with the Obama.
Obama's second visit was to Sergeant First Class Cory Remsburg.  This was the sixth time the President met with Remsburg, a wounded veteran from his time fighting in Afghanistan. Their first meeting was in 2009 on Omaha Beach during a D-Day Anniversary celebration. Obama later came to visit Remsburg while he was recovering from his wounds, including traumatic brain injury, in a military hospital.
The occasion for this meeting was happier, as Remsburg had just received the keys to a new home in Gilbert, a suburb of Phoenix. Obama did not come empty-handed, but gave a nice housewarming gift or some special White House beer.
"We know that there are a whole bunch of Corys out there," Obama said, referring to Remsburg, "and not all of their wounds are as easily seen. We've got to be just as vigilant, just as generous and just as focused in making sure that every single one of our men and women in uniform, that they're getting what they've earned and what they deserve."