Politics
The day after Montana Republican Representative Greg Gianforte sent a journalist to the hospital after a hard body slam, the vice president of Sinclair Broadcasting Group donated $1,000 to Gianforte's campaign.
Frederick Smith is a member of the family that owns Sinclair, a media company which has been often accused of extreme right-wing bias. The donation arrived at campaign headquarters on the very day Gianforte was elected. Smith had also given a $1,000 donation last March.
The trouble began on the previous day, May 24, when journalist Ben Jacobs, who works for The Guardian, attempted to ask Gianforte a question about the recently released healthcare bill. Gianforte approached Jacobs and pushed him with enough force to break Jacob's glasses and send him to the hospital for x-rays for broken bones.
Gianforte's first response to the incident was to blame Jacob's, calling him a "liberal" reporter and placing blame on him. But eventually Gianforte recanted and apologized. He pleaded guilty to the assault and gave a $50,000 donation to the Committee to Protect Journalists. Those gestures were part of an agreement between Jacobs and Gianforte in which Jacobs will not sue Gianforte in civil court. Gianforte was also sentenced to community service and anger management classes, and will also have to pay a $385 fine.
The body slam, however, was great for the representative's campaign. Approximately $118,000 flooded into campaign headquarters, double the amount from the day before.
With the increase in terror and violence throughout Europe, what should be the next strategic step for politicians, policymakers and other experts in the field?  What is the best way forward, taking into consideration both in terms of the current socio-political environment and the resources that are available to us?
Sonya Reines-Djivanides, Executive Director of the European Peacebuilding Liaison Office (EPLO) has spoken recently of some of her organization's leading suggestions. With over a decade of experience in international conflict resolution, she is also a part of the EU-CIVCAP, a project which seeks to "improve EU capabilities for peacebuilding."  In a video interview with Andrew Sheriff, Head of Programme, European External Affairs, ECDPM, Reines-Djivanides had the following points to make:
It's important to distinguish between conflict prevention and crisis management and thereafter develop a strategy accordingly.
React to the fundamental changes that have occurred throughout the entire political environment both within and outside of Europe.
The existing internal-external nexus.
In her current role at the EPLO, Reines-Djivanides also leads the 38 member organizations from 14 European countries to work together to help prevent violent conflict.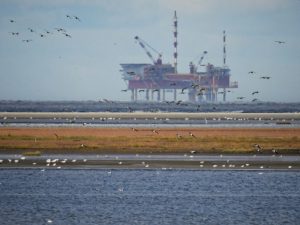 In a recent video, Ernest Scheyder reported that a top priority for discussion at OPEC's meeting in Vienna will be the stalling of OPEC's initiative to swing inventories back to their five year average.  The reason they have stalled is in part due to the outpouring of U.S. oil production.
In the OPEC's May 11 2017  Monthly Oil Market Report, expectations for the nation's shale oil production were revised at a substantially higher rate.  The oil supply estimated forecast has now been increased to 14.45 million barrels per day (increasing the total amount for 4Q17 to 14.96 million barrels).
Numbers from the International Energy Agency show that inventories from industrialized countries had a total of 3.05 billion barrels in February which was around 330 million barrels above the five year average. In addition, earlier this week saw the agreement (in principle) between Saudi Arabia and Russia for a need to continue output cuts for another nine months until March 2018. Further, American oil output increased to 9.31 million bpd this year, (a jump of 440,000 bpd from last year).