Politics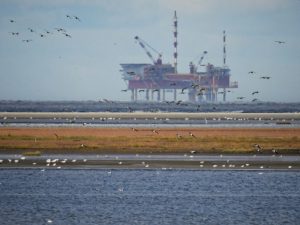 In a recent video, Ernest Scheyder reported that a top priority for discussion at OPEC's meeting in Vienna will be the stalling of OPEC's initiative to swing inventories back to their five year average.  The reason they have stalled is in part due to the outpouring of U.S. oil production.
In the OPEC's May 11 2017  Monthly Oil Market Report, expectations for the nation's shale oil production were revised at a substantially higher rate.  The oil supply estimated forecast has now been increased to 14.45 million barrels per day (increasing the total amount for 4Q17 to 14.96 million barrels).
Numbers from the International Energy Agency show that inventories from industrialized countries had a total of 3.05 billion barrels in February which was around 330 million barrels above the five year average. In addition, earlier this week saw the agreement (in principle) between Saudi Arabia and Russia for a need to continue output cuts for another nine months until March 2018. Further, American oil output increased to 9.31 million bpd this year, (a jump of 440,000 bpd from last year).
China has put up with North Korean hacking for some time, but the recent malware attack launched by North Korean hackers has awakened the sleeping dragon.
Already accused of such malicious cyber attacks as disrupting South Korean power plants, destroying computers at Sony Pictures, and pilfering $81 million from the Central Bank of Bangladesh, North Korean hackers may have gone too far with their latest global attack which caused a nasty cyber meltdown. And this could work to the United States' interest.
One of the most harmed victims of the latest attack was China, and they are far from happy about it. According to some cyber security experts, China has been enabling North Korea's hacking escapades by supplying the bandwidth they need, and even the physical space for thousands of hackers to attack corporate and government computer systems across the world.
The latest cyber disruption is making cyber security experts hopeful that Beijing will finally, after years of the US asking, that China will come down hard on North Korean black hat activities.
"This is creating a situation where China is forced to respond," said Carl Wright, executive vice president at TrapX, a cyber firm that studies malware around the globe. "These type of situations, when you combine the physical and cyber together, can definitely be a tipping point."
In a move strongly reminiscent of Nixon's firing of Watergate special prosecutor Archibald Cox in 1973, Trump fired FBI Director James Comey in the midst of an investigation into individuals close to the President who also had suspicious ties to Russia during last year's presidential campaign.
Trump's move is the first time in over 40 years, since Nixon's so-called "Saturday Night Massacre," that a sitting president had the nerve to fire an official in the middle of investigating the possibility of wrong-doing by his own people. Analysts agree the risks of such an action are huge.
"If President Trump thought the Russian hacking investigation would just go away, his decision today has insured that it won't," said presidential historian Timothy Naftali. "It's going to make getting rid of those allegations so much harder. There's now a cloud of doubt."
It is not unheard of for a president to dismiss an FBI director. Bill Clinton fired William Sessions in 1993 while the FBI head was facing accusations of unethical conduct. Sessions was accused of taking an FBI to make a personal visit to his daughter; and for installing a home security system using tax dollars. But what Trump did is different. In the past 40 years only Nixon had the temerity to fire the person leading the probe into possible wrong-doing by his own campaign, at the advice of Trump's attorney general who had already recused himself from this very investigation.
"It's terrifying on so many levels," said Michael Waldman, president of the Brennan Center for Justice at New York University Law School and a former chief speechwriter for Clinton. "This has every appearance of a cover-up, a possible act of obstruction of justice, just as much as Nixon firing Archibald Cox. That's the only comparable historical precedent I can think of."