Politics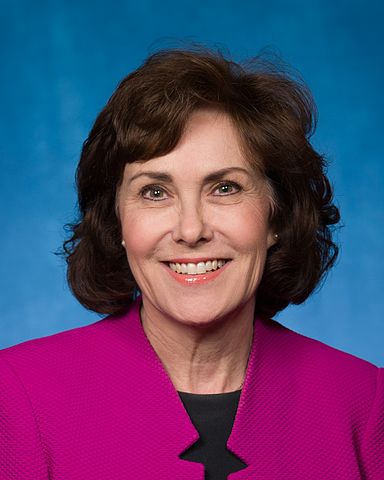 Representative Jacky Rosen of Nevada has her eyes on the prize that her party, the Democrats, can wrestle control of the Senate out of the hands of Republicans this coming November. There are not many places around the country where a change in party is even possible during the coming mid-term elections, so a lot of pressure rests on the shoulders of this 60-year-old former synagogue president from Henderson, Nevada.
The odds are solidly in favor of Republicans hanging on to their control, but in the case of Nevada, there is hope that Rosen can un-seat Senator Dean Heller, the incumbent.
Heller is a veteran politician who is a survivor. He was the only battleground-state Republican in 2012 who got through successfully a strong Democratic winning year fueled by the success of President Obama's re-election.
So how did Rosen end up in a battle for control of the Senate seat in Nevada? Back in 2013 she was elected president of her synagogue, the largest in Nevada. Her election came to the notice of Democrats, and only three years later she won a congressional seat in a district where President Donald Trump triumphed by one percentage point. Now, just two years later, Rosen is ready to challenge Senator Heller.
"I'm going to try to give people someone to vote for instead of something to vote against," Rosen said in an interview in Washington. "I believe I'm going to win this race."
The Trump administration is doing away with the key position of cyber security coordinator which was instituted by the Obama government. Obama saw a need to bring together in one chief who could unify the government's approach to cybersecurity and computer warfare.
John Bolton, Trump's new advisor on national security, is in favor of cutting the post against the advice of many experts and former government officials. The experts say that the elimination of cybersecurity coordinator is a major step in the wrong direction for federal cybersecurity policy.
The National Security Council justifies the move as part of the government's efforts to "streamline authority" for the head directors who are in charge of most of the NSC teams.
"The role of cyber coordinator will end," said a Bolton aide Christine Samuelian. Since the cyber team of the NSC already has two senior directors, "cyber coordination is already a core capability."
The move to eliminate the job was prompted by the departure of Rob Joyce, Trump's first coordinator. He came from the NSA and will be returning to Fort Meade. Policy experts, lawmakers and former officials connected to cybersecurity warned Trump not to eliminate the position, but to hire someone to replace Joyce.
"I don't see how getting rid of the top cyber official in the White House does anything to make our country safer from cyber threats," tweeted Mark Warner (D-Va.), Senate Intelligence ranking member.
Dr. Jennifer Peña, Vice President Mike Pence's physician, resigned in wake of the failed nomination of Ronny Jackson to be the secretary of Veteran's Affairs. Dr. Jackson was nominated by the president to take over the position after VA Secretary David Shulkin left the job but withdrew his candidacy after claims of professional misconduct were made against him.
Dr. Peña, who is a military physician like Jackson, was among the many people who accused Jackson of unprofessional conduct including overprescribing medication, drinking while on duty, and creating a hostile work environment.
In addition, Dr. Peña stated in memos that Jackson could have violated Karen Pence's patient privacy rights when he shared details of a certain medical event which involved Mrs. Pence with chief of staff John Kelly. CNN first reported on the memos.
Staffers in Vice President Pence's office as well as the White House were concerned about the accusations. They felt that Peña exaggerated the seriousness of the incident to harm Jackson and his chances to become VA chief.
Jackson stepped down from consideration for the position on April 26 when Montana Senator Jon Tester, the ranking Democrat on the Veterans' Affairs Committee, published document of allegations made by 23 current and former colleagues of Jackson of misconduct.
Jackson no longer works as President Trump's physician but has returned to work in the White House. The new presidential physician is Dr. Sean Conley, also a Navy officer.