Politics
With the increase in terror and violence throughout Europe, what should be the next strategic step for politicians, policymakers and other experts in the field?  What is the best way forward, taking into consideration both in terms of the current socio-political environment and the resources that are available to us?
Sonya Reines-Djivanides, Executive Director of the European Peacebuilding Liaison Office (EPLO) has spoken recently of some of her organization's leading suggestions. With over a decade of experience in international conflict resolution, she is also a part of the EU-CIVCAP, a project which seeks to "improve EU capabilities for peacebuilding."  In a video interview with Andrew Sheriff, Head of Programme, European External Affairs, ECDPM, Reines-Djivanides had the following points to make:
It's important to distinguish between conflict prevention and crisis management and thereafter develop a strategy accordingly.
React to the fundamental changes that have occurred throughout the entire political environment both within and outside of Europe.
The existing internal-external nexus.
In her current role at the EPLO, Reines-Djivanides also leads the 38 member organizations from 14 European countries to work together to help prevent violent conflict.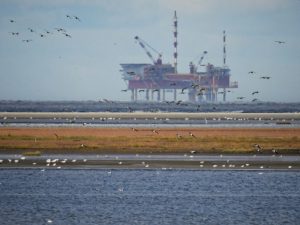 In a recent video, Ernest Scheyder reported that a top priority for discussion at OPEC's meeting in Vienna will be the stalling of OPEC's initiative to swing inventories back to their five year average.  The reason they have stalled is in part due to the outpouring of U.S. oil production.
In the OPEC's May 11 2017  Monthly Oil Market Report, expectations for the nation's shale oil production were revised at a substantially higher rate.  The oil supply estimated forecast has now been increased to 14.45 million barrels per day (increasing the total amount for 4Q17 to 14.96 million barrels).
Numbers from the International Energy Agency show that inventories from industrialized countries had a total of 3.05 billion barrels in February which was around 330 million barrels above the five year average. In addition, earlier this week saw the agreement (in principle) between Saudi Arabia and Russia for a need to continue output cuts for another nine months until March 2018. Further, American oil output increased to 9.31 million bpd this year, (a jump of 440,000 bpd from last year).
China has put up with North Korean hacking for some time, but the recent malware attack launched by North Korean hackers has awakened the sleeping dragon.
Already accused of such malicious cyber attacks as disrupting South Korean power plants, destroying computers at Sony Pictures, and pilfering $81 million from the Central Bank of Bangladesh, North Korean hackers may have gone too far with their latest global attack which caused a nasty cyber meltdown. And this could work to the United States' interest.
One of the most harmed victims of the latest attack was China, and they are far from happy about it. According to some cyber security experts, China has been enabling North Korea's hacking escapades by supplying the bandwidth they need, and even the physical space for thousands of hackers to attack corporate and government computer systems across the world.
The latest cyber disruption is making cyber security experts hopeful that Beijing will finally, after years of the US asking, that China will come down hard on North Korean black hat activities.
"This is creating a situation where China is forced to respond," said Carl Wright, executive vice president at TrapX, a cyber firm that studies malware around the globe. "These type of situations, when you combine the physical and cyber together, can definitely be a tipping point."