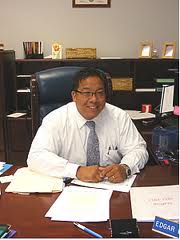 Parents at Northwestern High School in Prince George's County, Maryland are in an uproar. Four students were suspended for planning a school walk-out to protest large class sizes, lack of pay raises for teachers and the firing of two Filipino teachers whose work visas expired.
The planned walk-out was organized by El Cambio, a Northwestern student group, and by the Occupy movement's National Student Day of Action. The plan, code-named Project Xbox on Twitter, was uncovered by Principal Batenga the night before the event. The next day, he pulled the four leaders into his office and told them to call it off. He announced to the school that students were not to participate.
And yet, he still suspended the four students for their activism. At 2:40 when the walk-out was scheduled to begin, Batenga claims that students left their classrooms, creating a "major issue" in the hallways. The activists were not part of this disturbance, as they were sitting in the principal's office – and they had already called off the event on Twitter.
Batenga explained that,
"My main concern was making sure all 2,400 students in this building were safe and that all 2,400 students had the opportunity for their education."
He gave the students a five day suspension for "inciting others to disturbance and/or violence."
He explained that,
"My intention was never to suppress anyone's viewpoint."
Many appear to disagree.
Zach Zill, a community activist who was informally serving as a spokesman for the kids said, "They should be praised for their independent thinking and critically minded ability, not punished."
Christian Rhodes, an education liaison for Prince George's County Executive Rushern Baker said,
"I hope that there is some sort of administrative review of this process and that the suspension of the students, if upheld, do not go on their permanent record."
An online petition has been circulating to lift the suspension of the kids, and has gotten signatures as far away as Chicago. A meeting was also held last night between student activists and school officials, that proved to be quite interesting in its demeanour and its results.