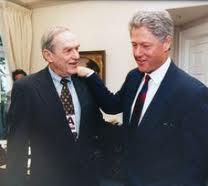 Bernard Rapoport, the son of Jewish Russian immigrants, founder of the American Income Life Insurance Company and well-known Texas liberal, died in Waco, Texas on April 5 at the age of 94.
Rapoport was born on July 17, 1917 in San Antonio, Texas to a father who had been sent to Siberia for his participation in a demonstration in St. Petersburg. Rapoport used to say: "My father taught me Marxism and hard work. My mother taught me to love learning."
Those lessons stayed with Rapoport his entire life, and were manifested in his generous support of a large variety of liberal causes and his love and concern for individual people. He liked to refer to himself as a "capitalist with a conscience" which became the title of his memoir written in 2002.
Over the years, as Texas went from a Democratic state to a more conservative Republican state, Rapoport continued to be a mainstay of liberal causes and institutions. He supported Democratic candidates, and education, becoming a large donor to the University of Texas.
"I have never known anyone who liked to make money as much as he did, and liked to give it away as much as he did," said William Cunningham, a former University of Texas chancellor.
Rapoport was able to support liberal politicians not only with his generous resources, but also by utilizing his extensive network of national political connections. He was a good friend and ally of Texas' last Democratic governor, Ann Richards, who appointed Rapoport to the University of Texas Board of Regents in 1991.
Rapoport was an alumnus of the University of Texas. Upon graduating he met and then married Audre Newman, with whom he celebrated 70 years of marriage this past February. In 1951 Rapoport borrowed $25,000 and launched the American Income Life Insurance Company, which he marketed mostly to labor unions and their members.
He gave millions of dollars to the University of Texas for scholarships and endowed chairs which had their focus on human rights and ethics.
Despite his money, power and connections, Rapoport never stopped being interested in people. According to his granddaughter Abby Rapoport, he was just as interested in the people employed at his favorite restaurant, El Conquistador, as he was in presidents and power brokers. "Every waitress got a lecture on why they should be in school," she said.
Hundreds of people attended a memorial service for Bernard Rapoport on April 11 in Waco. Next month Bill Clinton is scheduled to give a eulogy at a memorial service for Mr. Rapoport in Washington, DC.