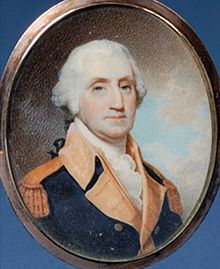 Every school child can name the first president of the United States, even if he or she can't name any others. The name "George Washington" is almost synonymous with "President of the United States," yet it is not well-known that Washington did not want the job. He may be the only president in history that felt that way.
In a personal letter to his friend, fellow general and war-time confidant Henry Knox, (who later became Washington's first Secretary of War), the great general expressed his innermost feelings about taking over as the country's supreme leader. The letter, which is in the collection of the Shapell Manuscript Foundation, and part of their Between the Lines program, does not mince words:
"In confidence I tell you (with the world it would obtain little credit) that my movements to the chair of Government will be accompanied by feelings not unlike those of a culprit who is going to the place of his execution: so unwilling am I, in the evening of a life nearly consumed in public cares, to quit a peaceful abode for an Ocean of difficulties, without that competency of political skill, abilities and inclination which is necessary to manage the helm. I am sensible that I am embarking the voice of the people and a good name of my own, on this voyage, but what returns will be made for them, Heaven alone can foretell. Integrity and firmness is all I can promise; these, shall never forsake me although I may be deserted by all men; for of the consolations which are to be derived from these under any circumstances, the world cannot deprive me…"
Exactly eight years later almost to the day, on March 4, 1797, Washington was finally allowed to leave the public limelight and retire to the peace and quiet of his private life at his plantation in Mount Vernon in Virginia. On the day of the inauguration, when Washington relinquished the office to his successor John Adams, Adams commented that Washington seemed to "enjoy a triumph over me. Me thought I heard him say, 'Ay! I'm fairly out and you fairly in. See which of us will be happiest!'"
George Washington was born on February 22, 1732, and died on December 14, 1799. Happy birthday President Washington!