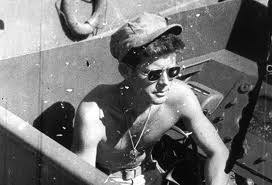 It's a bit of trivia, but it reminds us of the profound affect flying eventually had on the Kennedy family: John F. Kennedy, 35th President of the United States, took flying lessons in 1944, when he was 27 years old and still serving in the US Navy.
This little-known fact is backed up by the hard evidence, a student pilot's log book in the possession of the Shapell Manuscript Foundation. The log book records that Kennedy took ten lessons, one of them flying solo- the solo flight on his 27th birthday, May 29, 1944.
It is interesting to note that Kennedy took these lessons when he was stationed at the Submarine Chaser Training Center in Miami where he was looking for some rest and relaxation after his heroic rescue of the crew of PT-109. We can only surmise that learning to fly was part of the way John Kennedy relaxed, despite the fact that he was worried about his older brother Joe's unit which was experiencing a growing number of aircraft shot down. We also know Kennedy was worried about his younger brother Bobby, whom he warned not to go into aviation.
Sadly, aviation left a bitter scar on the Kennedy family. Joseph Kennedy, the older brother John was so worried about, died in a plane over Europe in August 1944. Four years later John's sister Kathleen died in a plane crash in France. Many years after John Kennedy's death in 1963, John's only son, John F. Kennedy Junior, also died in a plane crash which he was piloting in 1999.
If Kennedy had lived until today, he would have reached his 96th birthday. It's a good day to remember the special hope, joy and fearlessness JFK brought to bear on all his endeavors, especially in his role as President of the United States.