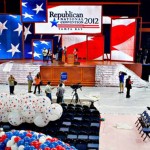 For those who care (and many argue that the national conventions have little relevance and will soon be a thing of the past) there is a mystery speaker booked for Thursday night at the Republican National Convention. That's right. According to the convention schedule that was released on Monday, there is a cryptic reference to a "To Be Announced" speaker set for Thursday night, around 10 pm.
Prior to this time slot, we'll hear from speakers from Mitt Romney's church, Staples' co-founder, state officials from Massachusetts, and Olympians.  Following the mystery speaker, Sen. Marco Rubio of Florida will take the stage and then the man of the hour – Mitt Romney – will speak.
Those who are speaking throughout the week, prior to the mystery speaker, include a long line of distinguished guests. New Jersey Gov. Chris Christie and Sen. Rob Portman of Ohio are part of the package, as are former presidential candidates Rick Santorum and Newt Gingrich. Former Florida Gov. Jeb Bush and former Secretary of State Condoleezza Rice will be lending their support. While former Vice President Dick Cheney and former President George W. Bush have said they aren't attending, there is a video expected from President Bush on Wednesday.
The big question, then, becomes who does that leave?