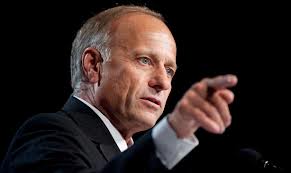 Steve King, Republican Representative from Iowa, became the second potential candidate to decline the opportunity to run for Tom Harkin's seat in the senate.
The first GOP prospect was the Agriculture Commissioner Bill Northey, who said last Thursday that he was not going to run. The next day was King's turn to refrain from joining the race, although it was his names that came up as a potential candidate when Harkin announced his retirement plans earlier this year.
Representative Tom Latham was another possible contender who declined the chance, but some Republicans in Iowa say there is still a chance Latham may change his mind.
"If you reread his note to his supporters of why he wasn't going to run for Senate, he definitely gives himself an opening to get back in if that's what he chose to do," social conservative activist Bob Vander Plaats said.