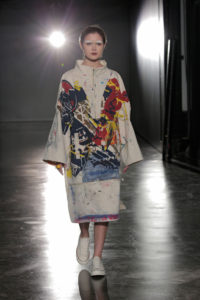 The San Francisco based design school, Academy of Art University, recently held their graduation fashion show, during which they awarded honorary doctorates to designers Kate and Laura Mulleavy of Rodarte.
The graduation was held on May 11. In addition to the honorary degrees bestowed on the Mulleavys by the Academy of Art President Dr. Elisa Stephens, a certificate of honor was also presented by the office of Mayor Edwin M. Lee of San Francisco.
The graduation was a runway fashion show including featured collections from Academy of Art students with fashion, knitwear, menswear, technical, textile, jewelry/metal arts design majors. Also included in the show were examples from the SHOP657 Collection. Created by Cherish Bai, Jayme Goodman, Meeneshwer Madhu, Sylvia Rivera, Soji Solarin, Yuki Zhang, Yun Ling Tham Timmy and Neysa Makizuru, SHOP657 is a private-label collection featuring items created by fashion, textile, jewelry and metal arts design as well as fashion merchandising students.  SHOP657 is unique in that it uses locally sourced as well as re-purposed materials in its design.
For inspiration the design students traveled through the Tenderloin district of San Francisco as well as watched the animated film "Alice in Wonderland." Another student, Vanessa Nash-Spangler, got her inspiration from the famous Fibonacci sequence, which she used to create her brightly colored tulle, silk and organza collection.
Another student, Celine Sohrabian was fortunate enough to have been given a summer internship at Rodarte, where she found inspiration in "distortion of shape, obscurity and a play on unconventional fabrics," for her collection.