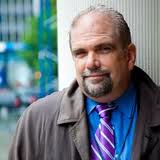 While waiting for a flight leaving Charlotte yesterday David Axelrod, key strategist for the Obama campaign, kindly allowed WNYC radio to interview him. Unfortunately Axelrod was not willing to discuss the fact that both Jerusalem and God are not mentioned within the Democratic Party's official platform.
"There was one subject Axelrod did not want to go on tape about: the omission of God and the reference to Jerusalem as Israel's capital from the party platform," WNYC's Bob Hennelly wrote at the conclusion of his interview. "He said it was a mistake and confirmed that as soon as the president learned about the omission he told party officials to re-insert the language."
When Obama campaign spokesman Ben LaBolt was asked about Axelrod's hesitation to discuss God and Jerusalem on the record, LaBolt said, "We've been on the record on this all week. Happy to go on again."