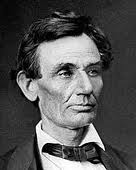 On this day, 203 years ago, a great man was born – and he was destined to become a great leader. On this day, President Abraham Lincoln came into the world in Kentucky. Born to poor farmers, Lincoln spent his formative years farming, and only received one year of formal education as a child.
And yet, today so many political figures look back at him and admire his intellectual ability and his modesty. As President Gerald Ford once said, "I'm a Ford, not a Lincoln." But when asked, once, who he most admired, Ford replied in a typed letter that is part of the Shapell Manuscript Foundation "Between the Lines" program that it was Lincoln that he most admired.
As Ford wrote,
"I admire him because of his honesty, integrity and utmost dedication to the American people. He was a man of reason and a man of hope. President Lincoln acknowledged the grave flaw of our first 87 years of existence – slavery, and made the first positive steps towards changing it. Abraham Lincoln rekindled the pride in America."
And he wasn't alone. In the last two hundred years, many people have pointed to Lincoln as the most humble of leaders. When having a law book dedicated to him, Lincoln wrote to the Hon. William D. Kelley to ask that
"the inscription may be in modest terms, not representing me as a man of great learning, or a very extraordinary one in any respect."
The letter to the Hon. Kelley, the jurist and Republican congressman from Pennsylvania, is part of the Shapell Manuscript Foundation collection and shows, as so many other documents do, what a humble man he was.
What a lesson to remember, on the birthday of this great leader, that humility doesn't stifle greatness and that even those who begin from little can achieve so much.