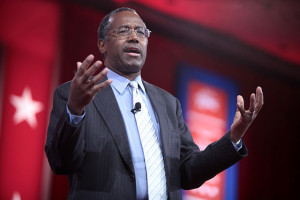 Famously not politically correct Ben Carson, Republican contender for US president in 2016, was on the defensive concerning several remarks he made about the Oregon shooting, Muslims and the Holocaust, which he says were taken out of context by the press.
Ironically Carson made his remarks at Washington's National Press Club, where he declared that:
"I don't necessarily care whether the press likes me or not and therefore I'm not going to conform to all their little requirements," Carson said.

"I mean, you guys are down there with used car salesmen," he added later.
Carson had said, in response to a question, that he "would not just stand there" was felt to be insensitive to the victims of the mass shooting in Oregon.
"[The media has] tried to paint me as someone who is insensitive because they didn't show the whole question," he told Fox News' Sean Hannity. "I was asked the question what would you do if you were in Oregon … and I said what I would do. They didn't include the question. They just added the answer to make it seem I was insensitive."
Carson continued to explain that journalists have an "agenda."

"That question there is a perfect example of it — taking something that most Americans understand implicitly what I'm talking about and trying to make it into a controversy."

"[T]he press is the only business protected by the Constitution," he complained to Wolf Blitzer of CNN. "The reason they're protected is because it was assumed they'd be honest and they'd be on the side of the people and wouldn't have an agenda."
Just for the record it should be pointed out that whereas used car salesmen are believed to have "high or very high" standards when it comes to honesty, according to a Gallup poll; journalist are believed to have "high or very high" ethical standards by a full 24 percent of those polled.