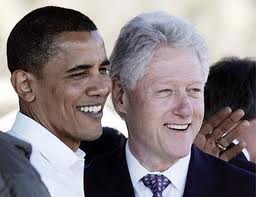 Money was the message in New York City on Monday as former Democratic President Bill Clinton accompanied President Barack Obama to some of New York's most prestigious venues in search of campaign funding to fuel Obama's re-election bid.
First stop was the home of Obama supporter and hedge fund manager Marc Lasry who rounded up 50 of his best friends who were willing to splurge $40,000 each to see the president up close and personal.
Next stop for the presidential pair was a reception at the Waldorf Astoria. At this exclusive locale about 500 guests forked out at least $2,500 a head to rub shoulders with this Democratic dynamic duo. In case the 'first men' were not enough of a draw at $2.5K a pop, Jon Bon Jovi was on hand to add to the appeal.
Last stop on their romp through the money fields of New York was The New Amsterdam Theater where 1,700 plus patrons  not only had the privilege of handing over their greenbacks in pursuit of 'Obama for President,' but  also got to see a cool show with entertainment superstars such as Stockard Channing, Cheyenne Jackson, Angela Lansbury, Mandy Patinkin, and a whole lot more.
Expected total take for all three events is in the range of $3.6 million. Not bad for a day's work, wouldn't you say?