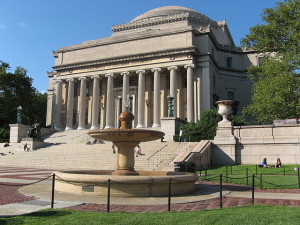 David Bershad received his law degree from Columbia University in 1968, along with James Meredith, Robert Cover and Nomi Reice Buchwald.
After graduation Bershad became the first associate at a prestigious New York law firm, specializing in securities litigation. He became a partner in 1970, and the firm has since expanded with offices around the country.
James Meredith became active in the American civil rights movement of the 60s and 70s, and was the first African American to attend the University of Mississippi. Perhaps Meredith is most famous for running against Adam Clayton Powell for the Congressional seat representing Harlem as a Republican, in 1967. Powell was re-elected to the seat after Meredith withdrew his candidacy.
Fellow class of '68 graduate Robert Cover was a law professor, scholar and activist. From 1972 until he died at the age of 42 in 1986 he taught at Yale Law School. The most famous essay he wrote is entitled, "Violence and the Word." The article inspired many debates about how law language and violence are interrelated.
After graduating from Columbia Naomi Reice Buchwald practiced law for five years. She then went on to become an Assistant United States Attorney in the Southern District of New York. In 1999 Buchwald was appointed by then President Bill Clinton to sit on the US District Court for the Southern District of New York.