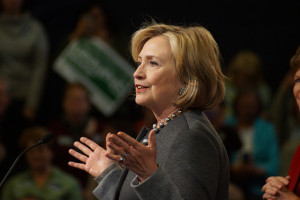 Ken Sunshine, a longtime supporter and friend of New York City Mayor Bill de Blasio, will be hosting a fundraiser on behalf of Hillary Clinton's campaign for US president. Sunshine, a public relations executive, and his wife, Nancy Hollander are co-sponsoring the event with Janet and Marvin Rosen, a previous finance chairman of the Democratic National Committee.
De Blasio was Clinton's campaign manager when she ran for the Senate, but he has not personally endorsed Clinton publicly. The Mayor has instead used the 2016 election campaign to position himself as a national leader on the left side of issues. Because of this supporters of both politicians, such as Sunshine, have been left to feel embarrassingly caught in between.
"I love Bill, and if I'm not the first, I'll be among the first to contribute to his reelection campaign," Sunshine said. "That doesn't mean I'm not going to be an early supporter and fundraiser for another friend, whose name happens to be Hillary Clinton. I assume Bill will eventually endorse her, but a lot of his friends like me are going to do it before him."
The fundraiser is set for June 29 in Manhattan, and is expected to attract a celebrity-filled crowd, including the likes of Barbra Streisand, Jennifer Lopez, Ben Affleck, Jon Bon Jovi and Leonardo DiCaprio, all clients of Sunshine.