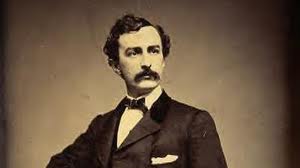 John Wilkes Booth was one of the most famous actors of his time. Handsome, wealthy, smart, he used his position to hobnob with people in the North, gathering information of use to the Confederates, who he vehemently supported. Not only was he an effective spy, but he smuggled quinine, brought small boats across the Potomac River, and also met mysterious figures in the shadows of the night. There is some evidence that he may have also been a blockade runner.
Booth had a brother in the North, who he disliked, mostly due to their disagreement about the Civil War. Nevertheless, in 1863, in the midst of the war, Booth was spending time in New York with his brother, Edwin, when he penned a letter from there to the owner of a well-known theater in Washington, John Ford, asking for a job. The letter, which is part of the collection of the Shapell Manuscript Foundation, was written to Ford on September 17, 2013.  The contents state:
No 107 East 17th: St:
Sept 17th:
John. T. Ford Esq
Dear John
Your telegraph just rec'd:. Now that I understand it. All right. Book me for Nov 2d: for two weeks. I will be there and I will keep the two following weeks open a time longer. there may be a chance for Baltimore then, or you may want me to keep on in Washington. But consider the two weeks from Nov 2d settled. With best wishes
I am Yours Truly
J. WILKES BOOTH
He did, indeed perform seven times during that two week period from November 2nd until the 15th. Booth played the lead in "The Marble Heart" during that run. In an eerie foreshadowing Lincoln saw one of those performances, on November 9, 1863, from the very same box he sat in on the fateful night, exactly 18 months later, of April 14, 1865, when Booth shot him from behind.