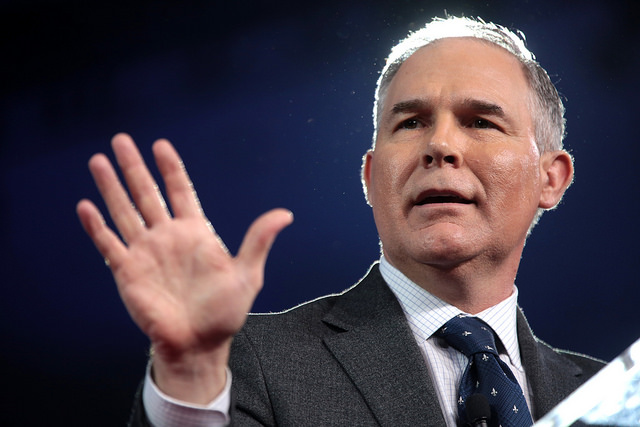 Despite ethic scandals associated with EPA chief Scott Pruitt, ten groups representing conservative interests sent a letter to President Trump urging him to stand behind his cabinet secretary.
The group brought a letter to the White House last week extolling the virtues of Secretary Pruitt, saying it is the first time such an organized effort has come together to support a Trump Cabinet official. The letter praises Pruitt and thanks the President for supporting him even though it might be difficult politically due to Pruitt's questionable behaviors which are continuing to come to light.
"The days of a rogue, agenda driven EPA are over," the letter stated. "Scott Pruitt is a bold, capable manager and is right for this job. His record shows you made the right choice picking him. We are certain he will guide EPA through the coming years of your Administration as a courageous and qualified administrator."
One of the signatories is Jenny Beth Martin of Tea Party Patriots Citizen Fund, who stated:
"Pruitt is delivering on policy changes that conservatives have wanted to see for years, if not decades," Martin said. "There's not a single member of the cabinet who has managed to deliver regulation rollbacks as much as Scott Pruitt has."
She also said that she hasn't seen any behavior on Pruitt's part that should require his dismissal.
This is the conservative movement coming forward and saying this guy is rock star," said another signatory. "I have not seen a more united conservative front on behalf of a Cabinet member since the Reagan administration."
Pruitt has been under fire for months for several unethical moves he made while head of the EPA. He is accused of outrageous spending on security and travel, plus he is being investigated by the EPA inspector general for several questionable activities.
More recently news of his renting of a $50-a-night condo from a lobbyist couple caused a stir among his detractors, while more scandals keep bubbling up to the surface of what is looking like a pretty deep swamp. He is accused of firing aides who questioned him about the money he was spending on security and travel, including asking for sirens and lights so he can speed-up his drives around DC.
Pruitt is also under investigation for his travel using taxpayer money, use of a special hiring authority, and spending on a soundproof phone booth for exclusive use in his office.
Observers have been predicting an imminent dismissal of the EPA head by chief of staff John Kelly, but President Trump has tweeted his support of the embattled secretary. The President told journalists on Air Force One last week that:
"I think he's done a fantastic job. I think he's done an incredible job. He's been very courageous. It hasn't been easy, but I think he's done a fantastic job."