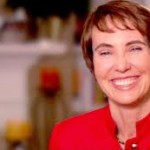 Anyone who has been following former Arizona congresswoman Gabrielle Giffords' recovery will be pleased to read this news. For the first time since she was shot in the head outside of a Tuscon supermarket in January of 2011, Giffords has traveled outside of the United States. Accompanied by her astronaut husband, Mark Kelly, and their daughter, Claire, Gifford traveled to the top of the French Alps Monday.
Riding a two-stage cable car, she made it to the station where she could admire the views of Mont Blanc and other peaks in Italy, France and Switzerland. As Kelly told friends and reporters, "Gaby is really enjoying this visit. This is a great day for us."
The trip was organized by the Chamonix Tourist Office and the European Nuclear Research Centre, CERN, in Geneva. The AMS particle detector, which Kelly and the Endeavour team took with them to the International Space Station in May of 2011, was developed at CERN. In addition to Kelly, Gregory Johnson, Roberto Vittori, Michael Fincke, Andrew Feustel and Gregory Chamitoff were all in attendance.
As CERN explained before the astronauts arrived,
"Their mission (code-named STS-134) was to install the Alpha Magnetic Spectrometer (AMS), the dark matter and antimatter detector designed at Cern, on the International Space Station. Since then, AMS has been sending over 18 billion cosmic rays events from space to the Payload and Operations Control Centre, on the Cern site."
Giffords is still in a wheelchair much of the time and has difficulties with her communication.
In addition to enjoying the trek up the mountain, Kelly was on the trip to visit a mountain research station for the installation of a plaque that recalls the last U.S. space shuttle mission.