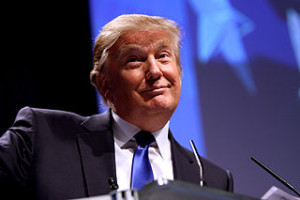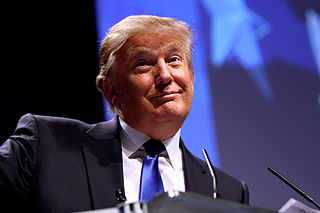 A new biography is about to be released about Donald Trump, just in time for voters to get a good, deep look at the controversial Republican candidate.
"Trump Revealed: An American Journey of Ambition, Ego, Money, and Power," written by Marc Fisher and Michael Kranish, is a 431-page bio, based partly on over 20 hours of interviews with the Washington Post Journalists who wrote it.
If the title hasn't already drawn you in, then here are a few short excerpts illustrative of what can be found between the covers of what promises to be an exciting journey full of scandals, if nothing else.
For one thing, it seems unlikely that Trump will even be able to read his own biography, given that it is longer than three pages.
"One day in June, he had a visit from a delegation of prominent executives from the oil, steel, and retail industries, and one of the CEOs told Trump that the Chinese were taking advantage of the United States. 'He said, "I'd like to send you a report,"' Trump recalled [in a June interview with the authors]. … 'I said, "Do me a favor, don't send me a report. Send me, like, three pages." … I'm a very efficient guy. I want it short.'" (p. 346-7)
His attention span for briefings seems to be equally limited:
"At Trump Tower, he kept no computer on his desk, and he avoided reading extensive reports or briefings. He preferred to be told about issues orally, and quickly."

If he ever does get around to reading his bio, it might be one of the very few books he has read in recent years (or ever?)
"He had no time to read, he said. As the reality of the nomination had become clear, he'd thought about digging into a biography of a president – he hadn't had a chance to read one – 'but I don't have much time.'" (p. 347)
An example of his deep and penetrating insight into cultivating his "brand:"
"Trump believed that the celebrity image he cultivated in the media did more to polish his reputation than any investigations by government officials or skeptical journalists might diminish it. 'You know,' he said [in Esquire in 1991], 'it really doesn't matter what they write as long as you've got a young and beautiful piece of ass.'" (p. 153)
For those who didn't know he has a fear of germs, this tidbit:
"Trump's preference for big rallies rather than retail campaigning … fit with his personal habits. As a committed germophobe, he started out avoiding shaking hands with voters." He kept bowls of hand sanitizer in his office and favored fast-food chains, which he believed were cleaner than restaurants." (p. 316)
Too bad this book didn't come out before the primaries began.