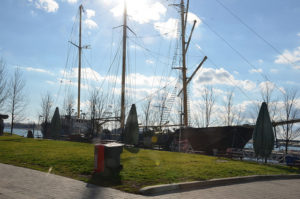 Last October a group representing the governments of Toronto and Canada, drew up a contract with Sidewalk Labs, a division of Google, to create a design for about 12 acres along Toronto's waterfront. The commission is worth $50 million and will cover the now derelict area at the far eastern end of the waterfront.
The goals of the Toronto and Canadian officials are to re-imagine what the dilapidated waterfront can look like as "the world's first neighborhood built from the internet up," according to Sidewalk Labs.
The process of development of this area, known as Quayside, will be unique: instead of the slow evolution of the neighborhood as gentrification redefines the area, Sidewalk plans to build the entire area in one fell swoop. And it will be a truly Google-style design, as the first "smart" city, as sensor-enabled and highly wired—an inner city that can run itself.
Urban planners came to attention when they heard Google was involved in designing the city. Planners and city officials took to magazine stories with titles like "Google's Guinea-Pig City" and "A Smarter Smart City." Since this is just the beginning of this project observers are interested in how it will all turn out, but they are suspicious that it can turn out well.
"Google? What does a tech company know about running a real live city?"
So, what does Sidewalk have planned for this Toronto neighborhood? How about "pay-as-you-throw" garbage chutes that automatically separate recyclables and charge households according to how much garbage they throw away. Or highly local weather sensors that can report a rain storm on its way and heat up a snow-melting sidewalk. And apps that tell the neighborhood residents when the comfy chairs along the water are free; or crowdsource approval from the neighbors for permission to throw a block-party, based on the level of noise the party is expected to produce. Auto-calibrate traffic signals to reduce pedestrian traffic during public events, or to help enable a smooth rush hour. All the information from the city's functioning would flow into a database that would constantly learn how to improve the city's functioning. Sidewalk says it will deliver "the most measurable community in the world."