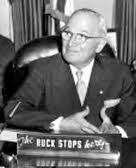 Nowadays reading seems to be almost going out of style. The most reading some teens seem to be doing is brief text messages on their smartphones. One of the messages of "Read Across America Day," which falls on March 1st, is that reading is an essential element in becoming successful, in almost any undertaking.
One excellent example of how reading made all the difference between success and failure was in the case of Harry Truman, the beloved 33rd president of the United States.
Truman is well-known as a simple man who was propelled into the limelight suddenly upon the unexpected death of President Franklin Delano Roosevelt. He was a "no-nonsense" kind of guy famous for the sign on his desk which stated, "The Buck Stops Here."
Truman grew up on a farm in Missouri whose formal education ended when he graduated from high school. So how was he able to handle the rigorous ordeal, or as Truman puts it in a letter in the possession of the Shapell Manuscript Foundation, his "terrible trial"? His answer, which he elaborates in the letter which he wrote in December, 1962 was that reading made all the difference.
I had to study whether I wanted to or not.  Read the Old & New Testaments King James translation three times before I was fifteen, and all the histories of world leaders and heroes I could find.  Our public library in Independence had about three or four thousand volumes, including the encyclopedias! Believe it or not I read 'em all – including the enclo's. Maybe I was a damphool [damn fool] but it served me well when my terrible trial came.
So listen up teens of America! Put down your smartphones and pick up some books. Join the 45 million people on Read Across America Day and prepare for whatever life throws at you; maybe even the Presidency of the United States!