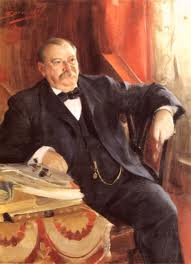 July 1st 1894 was the one year anniversary of cancer surgery performed on President Grover Cleveland in complete and utter secrecy. No one, other than Cleveland's surgeon, and several other people who absolutely needed to know, were aware of the fact that Cleveland had the upper left half of his jaw removed in one procedure, and a follow-up surgery several weeks later. Cleveland lived an additional 14 years after the surgery, eventually dying of heart failure and not cancer in 1908. Not until 1917, several years after Cleveland's death, was even a word spoken of his life-threatening illness and secret surgery.
Why such secrecy of a man who was quite open about other aspects of his life? He was elected not just once, but twice to the Presidency, despite admitting that he was a draft-dodger, hung two men while he was a sheriff, and even had an illegitimate child.
At the time Cleveland found out that he had oral cancer and would need to have serious surgery to save his life, the country was deep within a violent economic crisis known as the Panic of 1893. In addition, Cleveland could not help but remember the "morbid public hysteria" that was caused only a few years earlier when President Grant died from exactly the same type of cancer. Therefore, the secrecy.
On the first anniversary of Cleveland's secret surgery, in a letter couched in innuendo and hints, Cleveland wrote to his doctor thanking him for his help. The letter, which is part of the collection of the Shapell Manuscript Foundation, reads as follows:
My dear Doctor
Perhaps it has not occurred to you that this is rather an interesting anniversary. I don't know that it ought to occur to you with the same depth of feeling that it does to me. At any rate I want to remind you that you and I were on the Oneida one year ago to day [sic] – both feeling very different from what we do to-day and I guess you the most anxious of the two. The intervening time between that day and this is full of incidents filled with evidence of your kindness and devotion.
I must tell you another coincidence. Dr Keen called on me and examined me with the greatest satisfaction. He took me by the hand and congratulated me with the greatest kindness and enthusiasm. He never tires of speaking of the splendor and success of your job. He has really made me think that my very dear medical friend is a good deal of a chap.
But I only want to remind you of the anniversary. Good bye my dear fellow and in all your plans give the biggest chunk of time to Gray Gables.
Cal sits by me and is going to dine with me in about two minutes. I wish you were here.
Yours faithfully
GROVER CLEVELAND
Whether such secrecy today would be considered a great, generous sacrifice on the part of the President, or a deception not to be tolerated by the public, is probably moot. Our media-crazed society would never be able to allow such privacy to the President, and such a deception could simply never be pulled-off.