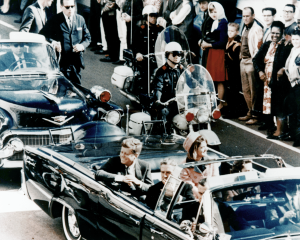 Two months after President John Kennedy was assassinated in Dallas, Texas, Kennedy's successor, Lyndon Johnson, created the Warren Commission to investigate the murder that had shocked the country.  The Commission toiled from January to September, finally publishing their conclusive 888-page report, asserting that there was no conspiracy to kill the president, whether from within US borders or from outside.
David Slawson was a 33-year old lawyer from Harvard Law when he was recruited to search for evidence of a foreign conspiracy to assassinate the president for the Warren Commission. By the time the report came out the Commission, with the help of Slawson's investigation, ruled out the possibility of a conspiracy. As Slawson today says, "I was convinced—then—that we had it right."
According to a new paperback edition of a book by Philip Shenon, however, today, fifty years later, Slawson is not so sure. What caused him to re-visit the issue? Shenon had interviewed Slawson over a period of years for the book he first published in 2013 about the Kennedy assassination. Because of evidence from newly opened, de-classified archives, Shenon's research and the research of others, Slawson's faith in his 50-year-old conclusion was shaken.
"It never occurred to me until you interviewed me and I read your book that the commission's investigation had been blocked like this." He added that it simply never occurred to him that the CIA and other agencies, "tried to sabotage us like this."
Now Slawson says "I think it's very likely that people in Mexico encouraged him to do this," he told Shenon. "And if they later came to the United States, they could have been prosecuted under American law as accessories" in the conspiracy.
Shenon's new paperback edition of his book A Cruel and Shocking Act: The Secret History of the Kennedy Assassination was released on February 3, 2015.