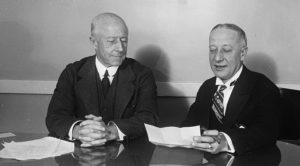 The 72nd annual Alfred E. Smith dinner took place on October 19, 2017 in the Grand Ballroom of the New York Hilton Midtown Manhattan hotel. The yearly event brings the country's most outstanding religious, political and business leaders together to support non-profit organizations that benefit New York's children most in need of assistance.
The dinner honors the memory of the first Catholic to be nominated by a major US political party as the Democratic candidate for president in 1928. As a governor of New York, Smith was known as the "Happy Warrior" for his optimistic attitude and positive outlook as he labored to solve some of the most difficult problems confronting society at that time.
Every year the organization honors one person as the newest "Happy Warrior," and this year John K. Castle, Chairman and CEO of Castle Harlan Inc, was that special person.
Actress and producer Patricia Heaton broke ground at this year's dinner as the first woman to emcee the event. Vice Chairman of the organization, Mary Callahan Erdoes, introduced John K. Castle, mentioning that he has participated in the dinner for the past 38 years.
"During those 38 years, I've heard a lot of bad jokes," Castle said. "And, unfortunately, a fair number of those 'bad jokes' got elected," he gibed.
Also appearing at the dinner were the New York Archbishop Cardinal Timothy Dolan, House Speaker Paul Ryan, who gave the keynote address, and Brooklyn Bishop Nicholas DeMarzio, who recited the invocation.
Cardinal Dolan's closing remarks included praise for those in attendance:
"…this event is really all about virtue; the virtue of a wonderful politician named Alfred Emanuel Smith, whose service to God, this state, this city, this one nation under God, was legendary. The 'Happy Warrior,' who stopped smiling only for a few moments when confronted with rejection and bigotry because of his own ethnic background and deep Catholic faith when he ran for president.

"The virtue of Jack Castle, who this evening received the award named after that 'Happy Warrior.' The virtue of Patty Heaton, our emcee this evening, whose joy and commitment to God and country are so luminously radiant.

"The virtue of a national leader, admired by all sides for his own patience, determination and sense of duty, whose own faith and patriotism, love of family and loyalty to friends—and I'm sure honored to be one of them—is so uplifting, Speaker Paul Ryan."
Mr. Castle received his BA from MIT, his MBA from Harvard, and is the CEO and chairman of Castle Harlan.