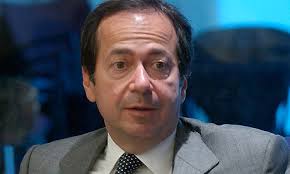 Hedge fund manager John Paulson recently filed his form 13F with the Securities and Exchange Commission, revealing a large stake in SPDR Gold Trust. As of March 31st Paulson owned  21,837,552 shares of SPDR Gold Trust.
Paulson's hedge fund did retreat from Barrick Gold in a big way. In the last quarter of 2012 Paulson possessed 915,000 shares of Barrick, while in the first quarter of 2013 his hedge fund had only 360,000 shares.
The 13F also showed that Paulson & Company acquired a new stake in Citigroup. John Paulson's hedge fund bought 1 million shares in Citigroup during Q1.
All institutional investment managers that do business over the US mail service or any other instrument of interstate commerce, and are also in control of more than $100 million in assets, must report those holdings through filing a Form 13F with the SEC. The form must be filed with 45 days of the last day of the previous quarter.