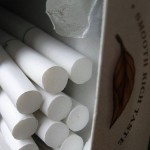 Enjoy lighting up that cigarette today if you live in California – because tomorrow you just might need to pay more to do so.  California is at the forefront of anti-smoking laws and has the second-lowest per capita smoking rate in the entire nation.  It has not, however, slapped a smoking tax on its cigarette packs in 14 years.
All of that may be about to change. A group of health and anti-cancer groups have joined together behind a ballot initiative that will go to the vote tomorrow, trying to place a new $1-a-pack cigarette tax on each pack purchased. The extra money would finance cancer research.
With their hackles raised, this proposal has the tobacco industry pouring $47 million into its advertisement campaign to defeat the initiative. And according to a poll by the Public Policy Institute of California, the anti-tax initiative is working.  While Proposition 29 still appears to have a majority of the support in California, the percentages have dropped from 67% to 53% with the campaign by the tobacco industry.
Many big guns have also gotten into the act to try to get Proposition 29 passed. Mayor Michael R. Bloomberg of New York contributed $500,000 to the initiative and Lance Armstrong has become its main public advocate.  The American Cancer Society has given $7 million to the campaign for the tax as well. As John R. Seffrin, the chief executive of the American Cancer Society explained,
"California has been a leader, not only in the country but in the world, in efforts to curb smoking. They are overdue."
The tax would raise an estimated $735 million. The last time that California increased a cigarette tax was in 1998, when it went up by $.50 through a voter initiative. Efforts since then in Sacramento have failed over and over again, particularly because the vote always required a two-thirds majority. This recent ballot measure only requires a simple majority for passage.
As Lance Armstrong said,
"This is our best opportunity, we think."