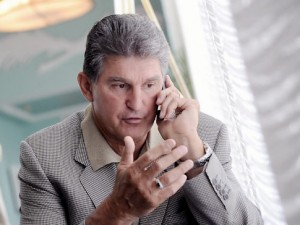 Co-author of the legislation to strengthen gun control in the United State Senator Joe Manchin will be launching a television ad defending himself against the relentless onslaught of the National Rifle Association.
The ad should be up this week and is being paid for by Manchin's reelection campaign funding.
"The ad will at least match the NRA's buy," said Jonathan Kott, an aide for Manchin. "We'll be shooting [the ad Monday] in West Virginia and we expect to go up this week."
"The Washington NRA leadership is clearly out of step with the American people and law abiding gun owners, and is now attacking Senator Manchin for a position they once supported. The Washington NRA leadership is trying to distort Senator Manchin's commitment to the [Second] Amendment because they know he is one of the most credible defenders of gun rights who also believe that it just makes sense to keep guns out of the hands of criminals and those found severely mentally ill," added Kott.
The NRA's campaign to de-legitamize Manchin, Democrat from West Virginia, will cost a minimum of $100,000.