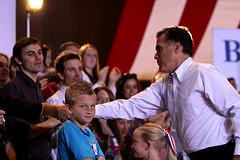 Mitt Romney is heading to the Deep South, and it's not a given that he's going to be doing well there. With the primaries in Mississippi and Alabama coming up next week, there is concern from his team that he's not resonating with the conservative crowd. Evangelicals are definitely skeptical of him with his Mormon faith.
Romney admitted during an interview on Birmingham, Alabama radio station WAPI that he's heading for a "bit of an away game" in the Deep South.
Romney's Got Some Support
Romney does have the support behind him by many top Republicans in Southern states, including in Alabama where he'll be speaking Friday. He's been endorsed by former Alabama Gov. Bob Riley, even though Riley concedes that Romney is an underdog.
As Riley said,
"Mitt Romney is the only candidate with the leadership and business experience to take our country through this difficult economic situation and bring us out stronger. If there was ever time to have a job creator in the White House, it is now."
Romney has the endorsement as well of most of the statewide elected officials in Mississippi, including Gov. Phil Bryant. Mississippi's Republican National Committee members, Henry Barbour and Jeanne Luckey, are both showing support for Romney as well.
Resigned Support
Many Christians in the South, while not Romney fans, are resigned to the fact that he'll probably win the nomination. As Shane Brown, a 43 year old nondenominational Christian minister explained in Jackson, Mississippi,
"He just does not seem like a real person. We're going to end up getting a candidate that the base doesn't really love. You may go vote for him, but you're not going to tell 10 people to go vote for him."
Many in the South characterize Romney as too wishy-washy. He's out of touch with the real people, they say. He's slick, rich and likely to say one thing to Northerners and another to those in the South.
Time will tell is Romney is able to break through the pre-conceived ideas Southerners have about him, and make his way towards the presidential elections. Assuming that he gets there, those Southerners who said they didn't like him will, at that point, give in. But we'll have to see if he gets that far along the way on his current Southern mission.