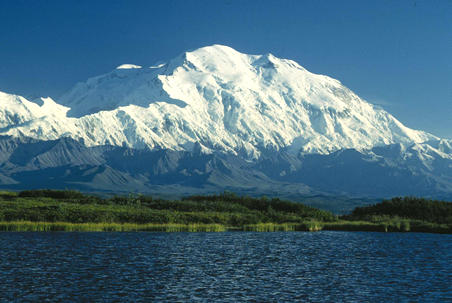 President Obama decided to right what most people in Alaska believe was a mistake by officially changing the name of Mount McKinley back to its traditional appellation.
The tallest mountain in North America, Denali was renamed to McKinley in 1917 21 years after a prospector to Alaska used the mountain and its name to support the then Republican presidential candidate. The mountain was officially designated as McKinley by an act of Congress, but in Alaska the people felt differently about what the name should be. In defiance of the US law, the Alaska Board on Geographic Names changed the mountain's name to Denali in 1975. That move came after supporters of the traditional name could not get past the Ohio congressmen to change the name on the federal level- President McKinley was from Ohio. One congressman, Ralph Regula, was especially dedicated to keeping the name McKinley, apparently because he was from the President's hometown of Canton.
When Regula retired in 2009 the road was cleared to allow the change, but the process was simplified when the present President Obama took the matter into his own hands and changed the name back to Denali by Presidential edict, signed into law by Interior Secretary Sally Jewell.
This simple, logical act did not fail to arose the ire of a few prominent Republicans. Ohio-based House Speaker John Boehner was not happy about the unilateral motion:
"McKinley served our country with distinction during the Civil War as a member of the Army. He made a difference for his constituents and his state as a member of the House of Representatives and as Governor of the great state of Ohio. And he led this nation to prosperity and victory in the Spanish-American War as the 25th President of the United States," the speaker said in the statement. "I'm deeply disappointed in this decision."
Not all Republicans feel as Boehner does. Republican Senator Lisa Murkowski of Alaska was happy to hear the news that the great mountain will now be called Denali. Secretary Jewell stated that:
"The mountain was originally named after President William McKinley of Ohio, but President McKinley never visited, nor did he have any significant historical connection to, the mountain or to Alaska."