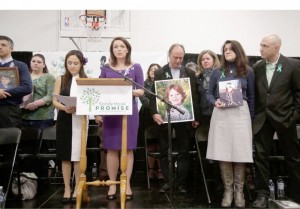 Emerging from their mourning with a cause which they are personally dedicated to, parents of the young victims of the Newtown school massacre are turning to Washington to prevent such tragedies from happening in the future.
These parents are using all their formidable abilities to push hard for what they want; stronger gun control laws. Utilizing the talents of two professional lobbyists, the families do not settle for meetings with just the staff of senators, but insist on meeting the senators themselves. This is just one of the several rules they have in their dealings with Washington lawmakers.
Their success in getting what they want can be credited to their unique moral standing as bereaved parents who have been directly hurt by the loose gun laws in the US in general and in Connecticut in particular. The parents also happen to be well-educated, mostly financially well-off, and successful in their own careers. They look good on TV, and are neutral politically. Using all these virtues the parents have become a force for action and change in Washington.
The parents never sound like pundits, wonks or operatives, just bereaved parents. Just by telling their horrific stories and demanding action in a respectful, but forceful manner, they have been able to move mountains, gaining the respect of lawmakers.
"These are smart, articulate people, who don't have a scintilla of Washington about them," said Matt Bennett of the centrist Democratic group Third Way, which has been helping the families navigate D.C. "But they virtually cannot be denied a meeting. There are not many groups of people that can get a meeting with any senator they want, whenever they want."
Nicole Hockley, mother of Dylan who was murdered in his classroom on December 14, 2012, worked in marketing and communications before taking time off from her career to raise her two children. She is one of the parents lobbying Washington. Before she ends a meeting with a senator, she leaves behind a card with three photos of her son, who was only 6 when he was gunned down. The card says: "Dylan Hockley, 3/8/06 – 12/14/12. Honor his life. Stand with us for change. NOW IS THE TIME."
"We are there as their (the children's) voices. But they have a presence in the meeting with these photo cards." She was among the parents who accompanied Obama back to Washington on Air Force One; under the circumstances this was not a fun flight. "I would rather have been at home with my two boys," she said.