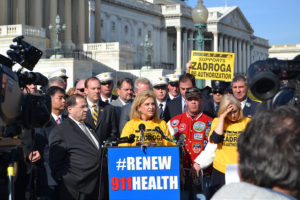 Not known for his great respect for women, Donald Trump might seem like the last person someone would lobby for the creation of a new Smithsonian museum dedicated to women's history. Yet, New York Democratic Representative Carolyn Maloney will not be dissuaded merely based on the president's bad reputation when it comes to women. Her cause is a women's history museum on the National Mall, and she is proceeding at full speed ahead.
Maloney represents the Manhattan district where Trump Tower, the president's New York abode, is found. She has been an advocate for such a project for quite a while, and has recently stepped up her lobbying of the president and his family and aids to get the project off the ground. Maloney went to the congressional picnic hosted by the White House in June and handed out folders on the museum to Trump and his most prominent women advisors.
"I talked to Ivanka about it, I talked to Melania about it, I talked to Karen Pence about it, I talked to Kellyanne [Conway] about it," Maloney said. "I handed it directly to the president and he said he would read it. I asked Kellyanne for advice on how to approach it. She said to talk to the president directly, she said she would not do it on my behalf."
Even with full support for the idea of the project, there are other obstacles standing in the way. Smithsonian spokeswoman Linda St. Thomas explained:
"Right now, we're only ten months into our brand new African-American Museum, and our next big capital project is a complete revitalization of the Air and Space Museum, which will be $650 million. It would be very difficult for us to handle a new building right now."
St. Thomas believes that women's history can be told in a better way across the already existing museums of the Smithsonian.