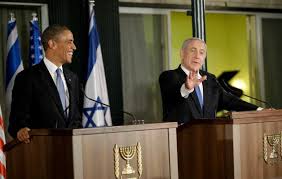 Chuck Todd of NBC was told by President Obama and Israeli Prime Minister Binyamin Netanyahu to refrain from asking any more questions, apparently reaching his limit upon asking his third question.
During a shared press conference in Israel on Wednesday during Obama's visit to Israel, Todd began his question marathon by asking about the peace process. He then asked a second question about the timeframe in which Iran is expected to go nuclear. Todd then began to ask a third question, but Obama interrupted.
"Chuck, how many you got?" the president said. "Do you guys do this in the Israeli press? You say you get one question and then you add like five? You see how the young lady from Channel One, she had one question, she was very well-behaved?"
Todd defended himself by saying that he did only ask one question, but then remembered that the holiday of Passover is soon coming and jokingly asked, "I thought I had four questions. Passover starts in a couple of days, I get four questions, right?"
Netanyahu added his two cents to the banter next, proving his value as a stand-up comedian who can think on his feet.
"These are Talmudic questions — they have iterations. Look, and this is not a kosher question, but don't hog it?"
Not flustered a bit, Todd came back with yet another question: asking Netanyahu why the Israeli people don't seem to be that enamored with Obama.
Obama shot back: "So you had to get a polling question in there at the end, Chuck," Obama said, "I mean you're just incorrigible."