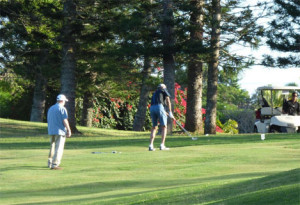 It is well known that Obama loves Hawaii. He spent his childhood there, and he takes his presidential vacations on the lovely island. Now that some friends and supporters of Obama have purchased what might by Hawaii's most famous property speculation is flying about who might live there one day.
Last week the gorgeous beach-front home which served as the luxurious backdrop for the Tom Selleck-starring TV series Magnum PI was purchased for $8.7 million. The buyer:  a group called Waimanalo Paradise LLC. The company's contact is Seth Madorsky, a lawyer from Chicago and big supporter of Obama. That was not the end of the deal, however. Waimanalo turned around and sold the three-acre property to a second limited liability company based in Colorado.  An executive assistant named Judith Grimanis of the Vistria Group, a private equity company, signed the dead and the mortgage. Marty Nesbitt runs the Chicago-based Vistria, and he is also a frequent golf-partner of Obama's, as well as vacation companion to Hawaii.
Although none of the paperwork for the home purchase mention Obama, the White House declined to comment and passed all questions regarding the sale in the direction of Nesbitt. All the White said about the matter was that "the president is not a party to this transaction."
A receptionist at the Vistria Group said that Nesbitt was out of the office and will not be back for several days. Grimanis, Nesbitt's assistant dodged all questions and referred them to Madorsky, the Obama supporter whose Waimanalo Paradise was the first party to the purchase. Madorsky did make a statement:
"Marty Nesbitt has authorized me to advise you that I represented him in connection with the purchase. Marty did not have any partners or co-investors in the transaction," Madorsky said.
The house under question was featured in the TV series "Magnum PI" which was aired in the 1980s and starred Tom Selleck as a private investigator who was living in the home of Robin Masters, a novelist. The digs were called "Robin's Nest" although the property does have its own name: "Pahonu."
It was built in 1933 and has five bedrooms, five and a half bathrooms, a gatehouse, boathouse, four-car garage, tennis courts a men's and women's bath house, a turtle pond, and 500 feet of beach frontage.