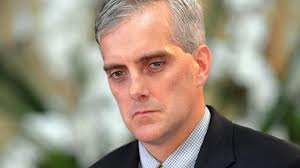 The Obama administration will be increasing the budget of the Department of Veterans Affairs by 4 percent as way to help the agency deal with an ever-growing backlog of benefits claims.
Denis McDonough, White House chief of staff announced the increase to the press on Friday, explaining that President Obama is proposing a $2.5 billion budget for the VA so that the agency can start making headway on clearing the huge backlog on benefits claims.
"The president has made clear to us this is a national priority," McDonough said.
The large number of unanswered claims has begun to provoke strong protests from a number of veterans groups. A few have even called for the resignation of the Secretary of Veterans Affairs Eric Shinseki.
When Obama first became president the number of backlogged applications for benefits was 391,000. Today there are 885,000 pending applications, 70 percent of which have been pending for over 125 days.
The proposed Obama budget also includes almost $300 million to bring disability claims on-line, and another $7 billion to fund mental health programs for vets. The entire VA budget Obama is proposing will cost $63.5 billion.