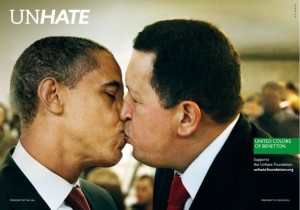 A new advertisement by Benetton has Obama, among other leaders, doing a whole lot of kissing. Known for their very controversial ad campaigns, Benetton has done it again; The Unhate Foundation, founded by the Italian clothing company, is now using famous political figures to promote tolerance… and to sell their clothing.
Locking Lips
The new campaign shows the leaders of North and South Korea kissing, it's got Palestinian President Mahmoud Abbas and Israeli Prime Minister Benjamin Netanyahu locking lips; and it features President Barack Obama kissing Venezuelan president Hugo Chavez in one advertisement, and Chinese President Hu Jintao in another.
Trying to defend their controversial campaign, Alessandro Benetton, the deputy chairman of Benneton Group and the son of the company founder said to the Wall Street Journal,
"It means not hating. In a moment of darkness, with the financial crisis, what's going on in North African countries, in Athens, this is an attitude we can all embrace that can have positive energy."
Historical Kiss
The idea for the campaign comes from an actual kiss between Soviet leader Leonid Brezhnev and East German communist leader Erich Honecker that took place in 1979.
It will be interesting to see what The White House has to say about having its president locking lips with other world leaders.